Welcome to A Buckeye In Paris!
My name is Sarah and I moved to Paris in March 2020, a week before confinement n°1. This little corner of the internet is where you can find my tales of dealing with the ever-mystic French Administration as well as the latest baking endeavor.
I hail from the great state of Ohio, the buckeye state, and have left everything behind to join my husband (you can read the story here) in baguette country. I would not trade this life for anything! Come along with me as I explore Paris as an expat, bake my American comfort foods, and create a balanced life between French administration and la je ne sais quoi.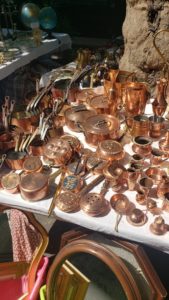 Breaking down the different types of second-hand markets in Paris. How to navigate them, how to negotiate prices, what to look for, and much more!
Read More »