What to do in Paris July 2022
Summer in Paris doesn't seem like it is in full swing until June 21st. The summer solstice or also Fête de la Musique. The nights are longer and the weather is warmer and sunnier and I always have the urge to walk along the quai and enjoy an ice cream from Berthillon. 
I've put together a list of what to do in Paris in July and I wanted to share that with you! There's so much more going on in and around the city, these are some things that I enjoy and look forward to and thought interesting. 
Events in and around Paris:
One thing that I always looks forward to is the Fête des Tuileries that goes from June 25 2022 to August 28 2022. This is located in the Tuileries Gardens, just in front of the Louvre Museum. You really can't miss is because there is a giant ferris wheel at the one end. 
There's everything from bumper cars, a ghost train, fun house, swings, shooting gallery, tests of strength, climbing wall, and even a splash ride. It's like a mini fair with food stalls (cotton candy, churros, slushees, etc…) as well as a a restaurant hall at the far end with the ferris wheel. 
The ferris wheel is my favorite as you get a really good (and different) view of the city. It's great to go up in all hours of the day, but particularly good if you can time the sunset perfectly and in the evening when the town is all lit up. But it is pricey, last time we went (2021) it was 12€ a person and they take only cash. You can buy a ticket at the window right next to the ferris wheel. 
Admission: Free.
Rides & attractions: Paid (prices vary)
Open from 11 AM to 11:45 PM Sunday to Thursday, till 12:45 AM on Friday and Saturdays.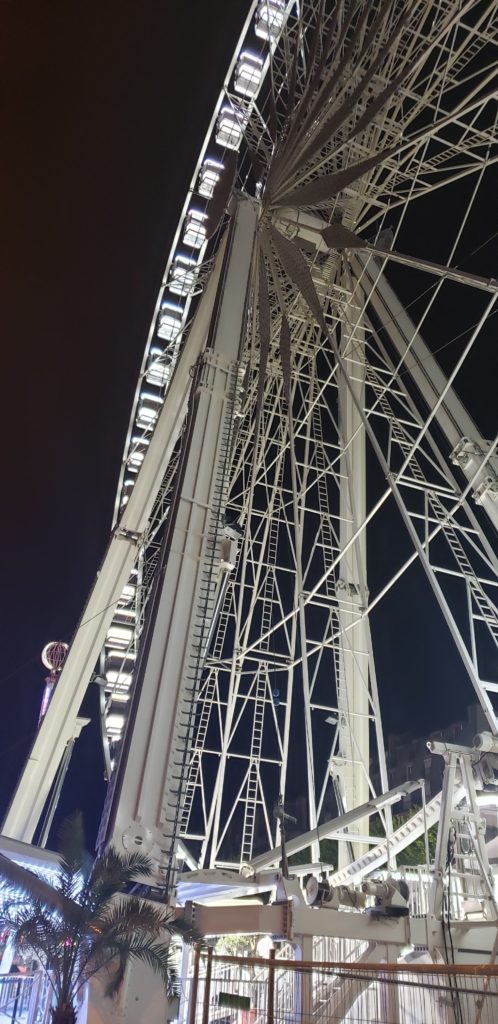 Along the lengths of the Seine, you may stumble upon the platform transformed into a beachy atmosphere. This is Paris Plages (Paris Beaches)! There are events spread throughout the Seine riverbanks in the heart of the city as well as the Villette basin in the 19th. There's something for everyone; from workshops, sport and leisure activities, cultural expositions, bathing, swimming, water-based activities, and much more! There are also food vendors and kiosks that are set up specifically for this event. And there will, of course, be a theme linked with the 2024 Olympics that are going to be hosted in Paris. 
Admission: Free.
Dates: July 9 to August 21 2022
Every day from 10 AM to 10 PM. 
Located on the banks of the Parc Rives de Seine and at the Villette basin. 
Dates: June 29 to September 7, 2022.
Admission:
Day concerts – free and no reservation required, only entrance to the park itself is paid. 
Evening concerts – presale: 27€, day of: 30€. 
Of all the festivals that happen in and around Paris during the summer, this is one (of 2) that I look forward to, the Paris Jazz Festival in the Parc Floral of the Bois de Vincennes. If you know me, you know my love for jazz music (hello TSF Jazz 89.9!) This festival also goes hand-in-hand with the following event, Classique au Vert, a part of the series Festivals du Parc Floral. 
Where there isn't jazz music filling the Parc Floral, it is classical music that replaces the sounds. During the weekends, there are concerts during the day as well as several evening concerts. 
This is a light and projection show that takes places in the courtyard of the Invalides. This year's theme is "Napoleon – The flight of the Eagle" and is about the life and accomplishments of Napoleon and the impact he had on France and Europe. The light show is quite impressive. This is definitely something I would add to your list if you're looking for something to do. Be forewarned, there are some parts that are a bit much; in terms of the wars and death. Even though these are depictions and drawings, the overall effect is still very comprehensible. 
I highly recommend splurging for the seated ticket options (golden category). You will thank me. It will be better than sitting for an hour on cobblestone. There's also the option to visit the Dôme church after the show. I have not done this and cannot speak to it. 
Admission: starting from 18€  (for adults). 
From July 16 to September 2022. July shows start at 10:30 PM and August shows start at 10 PM. 
Show in French, headsets available in English (5€).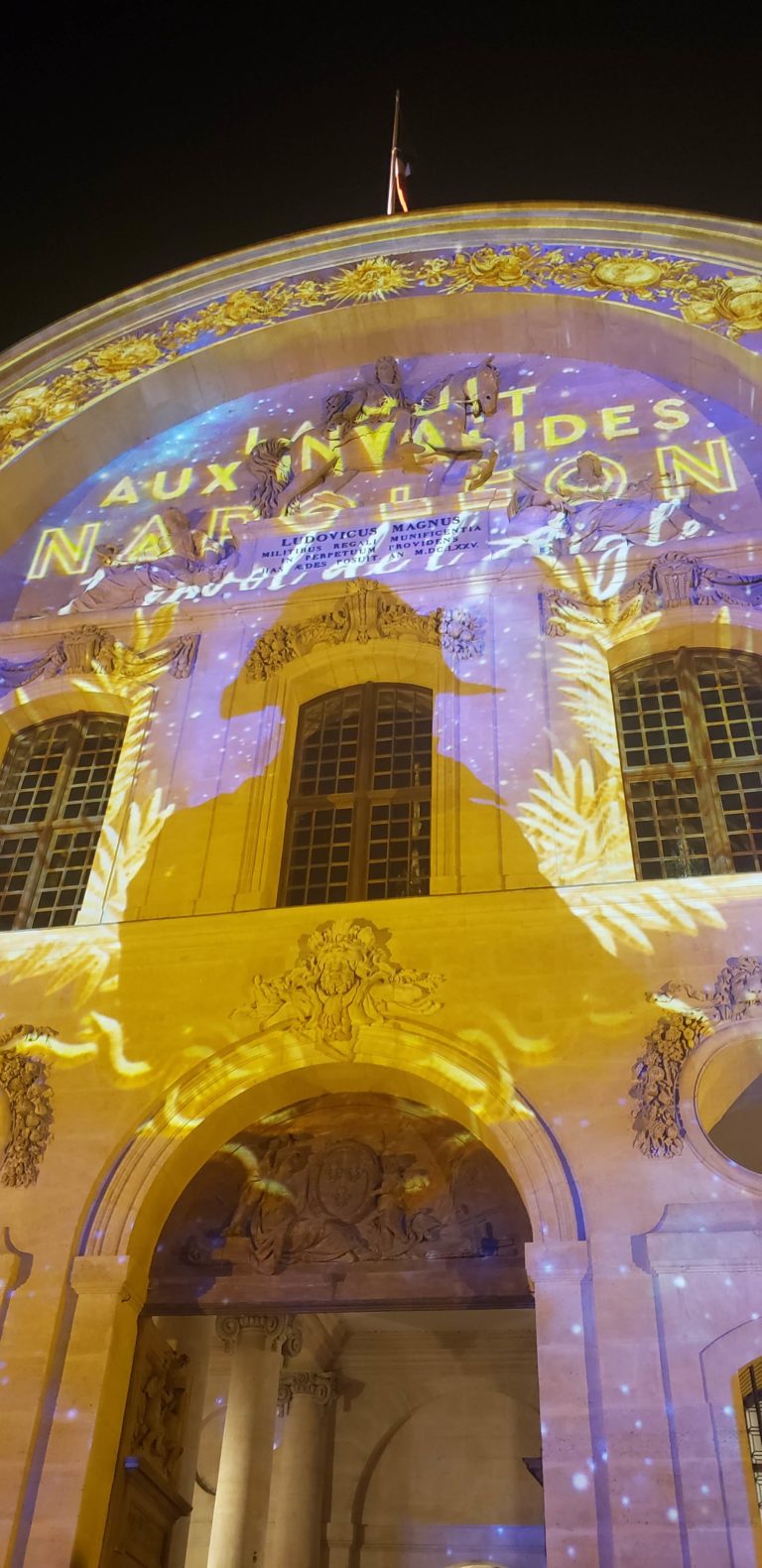 Unfortunately, this year's program has been cancelled and postponed until the 2023 summer season. This event brings opera out of the theater and into the open and accessible to a wider variety of public. 
Admission: varied depending on seating. 
June 17 to September 24, 2022.
Tickets starting from 45€ and up. 
Locations: Sceaux, Saint-Germain-en-Laye, Carcassone, Vincennes, Les Invalides, et Bordeaux. 
Grandes Eaux Nocturnes: Versailles
A little outside the city, to the west, in the town of Versailles, there's a magical event that happens Saturday evenings in the summer. The château's gardens and groves come alive to music and lights that illuminate the fountains. You are free to walk the grounds and enjoy the spectacle and the night finishes off with a fireworks display.
Admission: 31€, children under 6 enter for free. 
From June 11 to September 17, 2022 on Saturdays only fro 8:30 PM to 11:30 PM. 
Candlelit Days/ Vaux le Vicomte
Vaux le Vicomte is most known for its likeness to the château of Versailles. Bought by Nicolas Fouquet, a member of the French Parliament during the time of Louis XIV. He hired the trio that also worked on Versailles palace itself, so you can just imagine the beauty. 
During the warmer months, on Saturdays and new this year on Fridays, you can visit the château by candlelight. This is a little more relaxed to the evening event at Versailles. There are still fireworks at the end of the evening, but here you can bring your picnic dinner, as well as dining at two restaurants around the premises. 
Admission: garden only 16€, château and garden starts at 21,90€. 
From 2 to 10 PM on Fridays from July 8 to August 26, 2022 and Saturdays from May 14 to October 1, 2022. 
Expositions Currently Running:
Melody Gardot- From La Hune with Love
A collection of 150 photos taken by the infamous jazz singer, Meldoy Gardot. 
Running from May 24 to September 30, 2022.
Admission: Free.
Location: La Hune Librarie-Galerie, 16 rue de l'Abbaye, 75006, Paris.
A partnership with the CNES and the Atelier des Lumières for an immersive evening through galaxies far, far away. Known for its ability to put you in the middle of an artist's paintings, the Atelier transports you into space without leaving Earth. 
Admission: Tickets starting at 14€
Location: L'Atelier des Lumières, 38 Rue Saint-Maur, 75011, Paris
Running from July 1 to 30, 2022, Monday to Saturday from 4:30 PM to 8 PM
Henri Cartier-Bresson is most known for his captivating and iconic black and white photos of real-life moments. This expo brings together around 70 photos of his time exploring Europe, Asia and America from 1930 to 1990. I missed the last expo on his work at the Musée Carnavalet and am not missing this one!
Admission: Tickets starting at 9€
Location: Foundation Henri Cartier-Bresson, 79 Rue des Archives, 75003, Paris
Running from July 1 to September 25, 2022 
Pionnières. Artistes d'un nouveau genre dans le Paris des années folles
The Musée du Luxembourg (the one with the garden)'s feature exposition showcases artists in Paris during the Roaring Twenties that paved the way in the development and beginnings of famous artistic movements, getting the recognition they did not get in the beginning. This exhibit looks at the female artists and their contributions back then and now. 
Admission: Tickets starting at 14,50€. 
Location: Musée du Luxembourg, 19 rue de Vaugirard, 75006, Paris.
Running from March 2 to July 10, 2022.
Le Monde de Steve McCurry
The world of Steven Curry exhibits around 150 different photos that span the life of his career. This American photographer is most known for his photo of "Afghan Girl". This exhibit was supposed to end in May, but was extended until July because of its popularity. 
Admission: Tickets starting at 15€
Location: Musée Maillol, 59-61 Rue de Grenelle, 75007, Paris.
Running from December 9, 2021 to July 31, 2022. 
The current exhibition at the Musée Jacquemart-André features Finnish artist Akseli Gallen-Kallela, most known for his naturalist paintings. This expo showcases his relationship he had with his his beloved Finnish countryside and a look through his world through around 70 paintings. 
Admission: Tickets starting at 15€
Location: Musée Jacquemart-André, 158 boulevard Haussmann, 75008, Paris.
Running from March 11 to July 25, 2022. 
Boldini, Pleasures and Days
Over 150 works of Giovanni Boldini are exposed at the Petit Palais and give a peek into his career as an Italian painter living and working in Paris during the Belle Époque. Friends with the likes of Proust and Degas, he gives a rare glimpse into Paris during this time period; the fashion, high society and the richness this time period portrayed.
Admission: Tickets starting at 14€
Location: Petit Palais, Av. Winston Churchill, 75008 Paris
Running from March 20 to July 24, 2022
This open-air art exhibit celebrates its 5th year with 69 pieces from artists all over the world. Amongst the urban jungle that is La Défense, inspiration in these pieces comes from nature herself. In addition to the contemporary pieces already installed on the Esplanade, this year's event will make you look differently at how we view the world. Sprinkled through out the Esplanade as well as into the gardens of Seine Musicale and even into Courbevoie. 
Admission: free. 
Location: Esplanade de La Défense, 92800 Puteaux.
Running from June 22 to October 2, 2022.