Are you a Trusted Traveler?
Have you heard? Do you know what that is? If you plan on doing any sort of air travel in the future and on a more consistent basis, I'd look into the Trusted Traveler Program by the Department of Homeland security.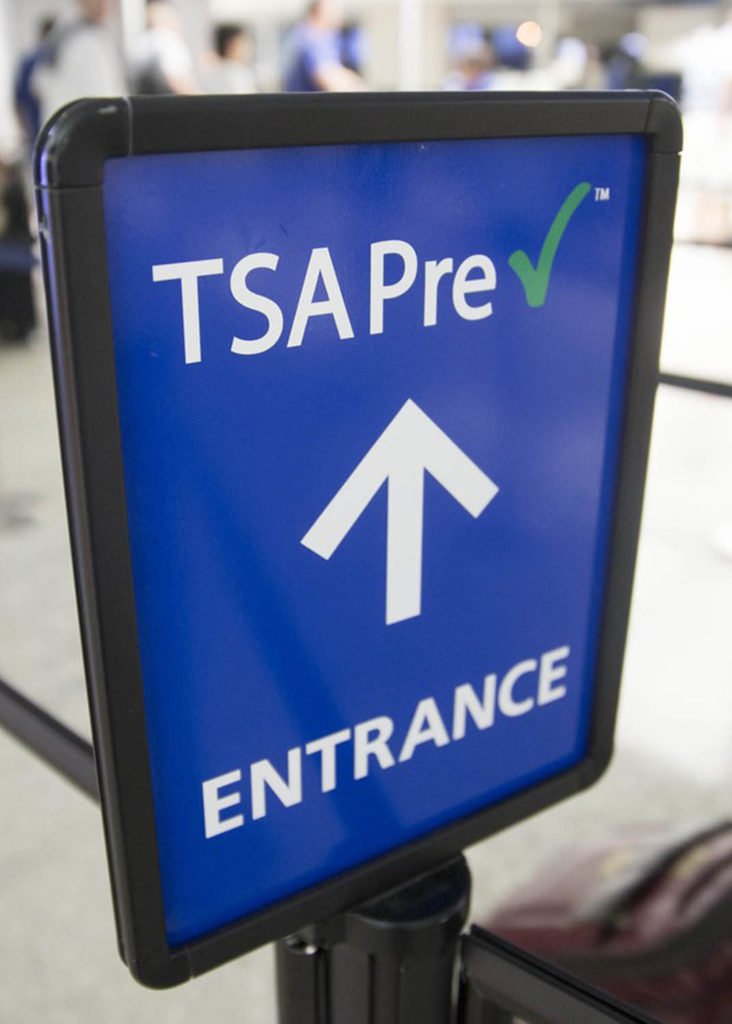 If you've done any sort of traveling over the past couple years I am sure you have noticed this sign popping up everywhere before heading through the dreaded TSA security check-point. TSA Pre Check is not for the elite and famous, it's for you and me and every other regular Joe out there. All you need is a valid and up-to-date passport. There are several options to consider what's best for you and there's even a little fill-in questionnaire to help you figure out what that is!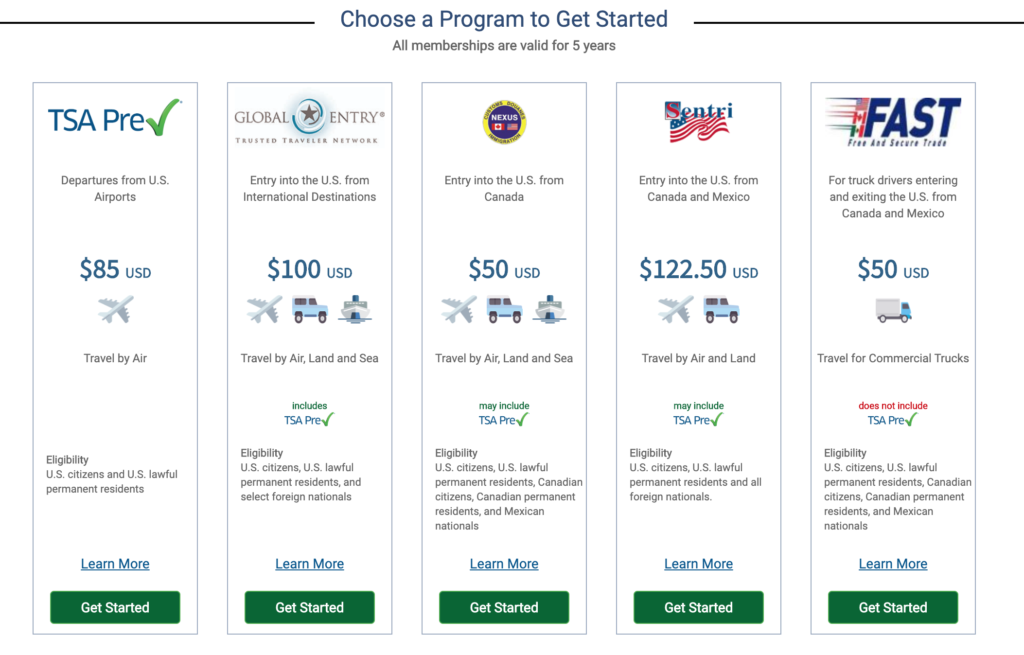 The above diagram lists all the options available to you with a brief description of what each program offers. Depending on what type of traveling you're doing depends on what option is best for you. Make sure to read the descriptions to make sure you are choosing the right one for your traveling needs.
Today I want to talk about Global Entry. I found out about this program from a close family friend (Thanks Auntie M!) who is a seasoned traveller and she recommended this a few years back. At the time, I was planning a vacation to the UK for my girlfriend's wedding in a few weeks and immediately applied on the website. I knew I hated standing in line waiting to pass security and then thinking about passing through customs to get back into the States on my return made me cringe even more! I am always on the lookout for what will save me time, money, and help me keep my sanity and this is definitely one for the books.
Global Entry gives you TSA Pre-Check before you leave for your trip and makes the return trip back into the United States more streamlined and less of a headache. You need to make sure you apply well before your departure date as this process takes several weeks to be finalized. When dealing with the government, I always air on the side of caution and plane for 3 months minimum. Most processes have a phone number you If you do any sort of international travelling, this is the option for you. Best travel investment to date!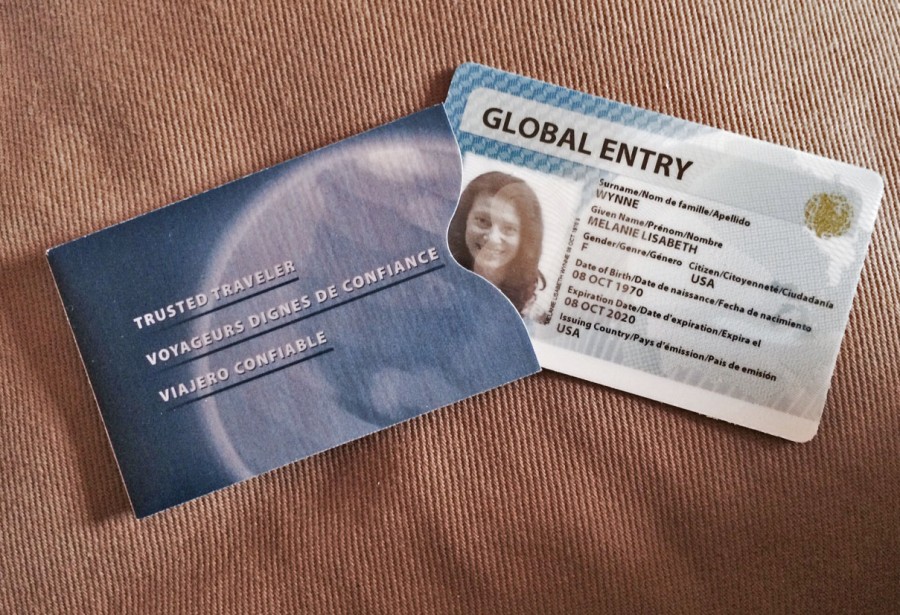 When you apply for your Global Entry card, you will be redirected to the login.gov site to create a profile. This is where you will go to check on the status of your application once you have completed the interview step. You are able to update some contact information on your dashboard but there is some information that you will need to visit an enrollment center so a Border Officer can help you.
The application is pretty straightforward and takes a little bit of time as this is part of a background check process. So please plan to set aside a quiet chunk of time to make sure you've covered all your bases. It'll ask information about your current and previous work history, countries you've visited, if you have a criminal record, your vehicle details, and of course your personal information. The one document that helped me the most was surprisingly my resume! So, if you have an up-to-date version, pull that sucker out! You won't need to go rummaging through your phone or racking your brain for timelines and information.
Once you have completed your application you will need to schedule an interview at your nearest enrollment center. You will once again be directed to a site that allows you to choose a date that is available for an interview. This may be one week out or two months out, just depends on the demand at the time. My local center is about 50 minutes from my house and is usually never crowded. You will need to print out the letter you received when you finished your application to bring with you as well as proof of residency (i.e. utility bill). When the day of your appointments arrives, you are more than welcome to arrive to your enrollment center early. It usually works out in your favor. You'll be asked some more questions mainly focused on travelling, your citizenship status, and if there have ever been any issues with customs or immigration. You'll be photographed and your fingerprints will be taken. The photo will be for your Global entry card and the fingerprints will be for the kiosk when you use Global Entry upon returning to the States after travelling internationally. You'll be given some further instruction and then sent on your merry way. The whole interview process took about 20 to 30 minutes and was completely painless.
There's no set timeframe as to when you'll get your card in the mail. Mine arrived two weeks after my interview, but it all depends on what the government is up to. The website has an alert currently posted from the shutdown in 2019. It really all depends. I'd highly recommend asking for clarification at your interview, the border patrol officers should have some sort of idea and should be able to give you better insight.

Since receiving my card in the mail I have traveled internationally 4 times and have been so thankful upon entry into the United States. I always have a connecting flight and I try to make sure I choose a layover that allows more than two hours, but that's not always the case. You do not need to fill out the paper form that they give you on the plane! That will be done on screen at the kiosk. When debarking your plane and going through the queue for customs, you will follow signs for Global Entry. You need your passport to scan into the machine. It will ask to scan your hand print and then it will take a photo of you. On the screen, it will ask you questions that are found on the paper customs form that normally fill out on the plane. When you have completed everything on screen, it will print out a receipt form and you will then proceed to a Border Patrol officer. You'll present your receipt, passport, and answer a few questions and then you'll be on your way to your next (or final) destination. Quick, easy, and nearly painless.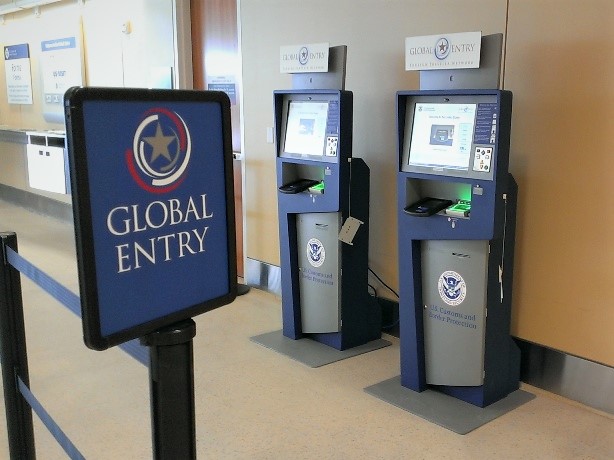 You do not need to carry your Global Entry card with you if you are travelling internationally. You enter your Known Traveller number (that is found on the back of your card) into the airline account where you have booked your tickets.  You need to carry your membership card only if you'll be traveling by land between the United States and Canada or Mexico. You do not need the Global Entry card for travel by air. All in all, this is one of the best investments I've made into my travels. The ease of pre-check and re-entry into the States is worth it alone. If it had not been for Auntie M, I would have had no idea this program existed until I got to the airport. I have not had to renew my card yet, so I cannot report on that process, not yet.
Have you gone through this process? What was your experience? Any tidbits you'd like to add? Has anyone applied at the airport? Let me know what you think in the comments below!
Bisous!
xoxox
Sarah