What goes into making a French Charcuterie Board
Here's how to knock it out of the park at your next party...
What the heck is charcuterie and why is everyone talking about it? It's only the next best thing since sliced bread. It's always a hit at the local get together and you're able to please everyone, even the pickiest eaters. It's like a mini buffet smooshed together with all the most amazing ingredients! 
So, what is charcuterie you ask? The word charcuterie comes from the French word chair for "flesh" and cuit for "cooked". It is the art of preparing and assembling meats, mainly pork, that have been cured (aged, dried, canned, salted, brined, or smoked) as well as other meat based products. 
What goes into a charcuterie board? There's usually an assortment of meats, cheeses, breads, olives, fruits (dried or fresh), nuts, and other condiments. The list goes on and on and the options are endless. Read on to find out more! 
Charcuterie Board Details
Typically, charcuterie boards are served as an appetizer, but nobody said you have to follow the rules. You can serve them whenever you want, it's your party ! 
It is best to start with an idea of what you want to serve, how you will be serving the board, and what will be going with it. Is it going to simply be a starter where people can simply graze before heading to the main course ? Or is your board going to be the main star of the evening ? Have fun, get creative with your board ! 
Depending on when and how you will be serving your charcuterie board will determine the other points that follow. 
Start with what's in your cupboard already. It's the easiest and cheapest way to start. Plus, using something that's multi-purpose always gives many lives to one piece (or several). My favorite go-to piece is my bamboo cutting board. I like it because it looks natural and you can cut on it at the same time without worrying about damaging the platter. 
Get creative. You can use one platter or several different sized ones. Play with the space and the ingredients. I love checking out antique store and flea markets to see what one-off pieces I can find. Not only are you giving life to a piece of serving-ware that's been passed along, but it's also a great conversation starter.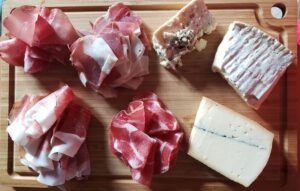 Buckle in, this could get long ! Get your pad and pen at the ready ! 
There are so many different types of ingredients you can use, it's best to figure out what you're doing with the board. Here are some of my favorites and some that I've seen on other boards. But you can break down the main players into the following categories : 
Meats
Cheese
Condiments
Breads
Fruits
Vegetables
It's good to have 2 to 3 meat options. Depending on how many people you are having depends on how many options you can offer on your board. I like serving anywhere from 2 to 4 meats. If it's just myself and the husband, 3 is the perfect number. 
Here's some examples of meat choices: 
Rillettes
Mousse
Salami (Soppressata, Calabrese, Genoa)
Prosciutto
Pâté
Mortadella
Sliced ham, turkey, roast beef, or any other deli meat
Pepperoni
Trail bologna
I like to have a nice variety of cheese and there is no such thing as too much cheese. I start off with 2 soft cheeses and 2 hard cheese and possibly a spreadable cheese in between. I love my cheese so there will always be more cheese than meat options if I'm making the board. 
Here are some good cheese options to start with : 
Goat cheese
Brie
Gouda
Manchego
Bleu (or a variation there of)
Cheddar
Colby Jack
This is where you can let your imagination run wild ! There are some many different additions that you can include as a bonus to your board. If you are not serving any fruit, a jam or chutney is a good sweet option to balance the saltiness of the cheese and meats. 
Pickles
Olives
Cocktail onions
Jam (sweet or savory)
Chutney
Dip
Mustard
Butter
No one can say no to bread, it's the staple of staples. So go all out here. You are not just limited to one option. I prefer the classic baguette, but I always have crackers and bread sticks at the ready depending on my mood. 
Sliced baguette
Crackers (any sort of variety will do. I prefer the Breton line myself)
Bread sticks
Pita slices
This is pretty simple. You don't need to put much thought into, grab your favorite loaf and slice away ! 
These can come in any shape or form. Dried. Fresh. They can be an excellent off-set to the salty that you are serving to your guests. I love dried fruits as they are not as messy as fresh fruits, but a good sliced melon (honeydew or cantaloupe) always pairs well with sliced ham and a good brie. 
Cherry tomatoes, baby carrots, mini radishes, slices of bell peppers, etc… You can add vegetables to give an array of color and crunch to your board. These can be used as filler, if you desire, or as a supplement to your board. 
Forks. Knives. Ramekins. Signs. Tongs. Picks. Platters. Cups. 
There are a plethora of items that you can use to present the food items on (or near) your board. Ramekins or cups are great for keeping pickles, cocktail onions, nuts, and fruit pieces. It's always good to have a few knives for certain types of cheeses. 
This is where you can let your creative juices fly ! I like to choose a "centerpiece" and build my board around that. For me, it's always the cheese because I just love cheese. The gallery below has some examples of charcuterie board builds that I've gotten at a restaurant or put together myself. 
There ya go ! 
I hope you were inspired to add a charcuterie board to your entertaining repertoire. It is certainly my favorite things to prepare because there is not thought that goes into it ! 
What are some of your favorite ingredients to put on a charcuterie board? Let me know in the comments below ! I'd love to hear what you've created !