A Simple Fix // Everything but the Bagel Market Quiche
You didn't know you needed this recipe.
This is quickly becoming a favorite that is simple, easy and always a success when I make it. It keeps well and leftovers always get eaten up.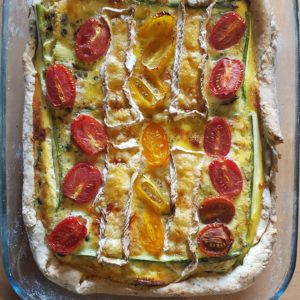 Everything but the Bagel Market Quiche
A simple, easy recipe that will please any picky eater.
Ingredients
Crust
2.5

cups

flour

AP (T55)

1

tsp

salt

16

tbsp

butter

unsalted, cold

1/4 - 1/2

cup

water

cold

2

tbsp

Everything Bagel Seasoning
Quiche Batter
6

each

eggs

large

1

cup

milk

TT

Salt

TT

Pepper
Quiche additions
6

stalks

asparagus

cut in half lengthwise

8

each

cherry tomatoes

halved

1/2

each

shallot

diced and sautéed

1

pack

lardons/bacon chunks

sautéed crispy

4

slices

Camembert cheese

2

tbsp

oil

for sautéing shallots
Instructions
Start by making your crust dough. It can rest while you are sautéing your shallots and lardons (to come later).

Mix all the dry ingredients together (flour, salt, seasoning blend).

Add butter in chunks and cover pieces with dry ingredients. Working with your hands, break up the butter chunks into pea-sized bits, working it into the flour.

When you have significantly broken up the butter, add the water, starting with 1/4 cup, and mix together. Add up to 1/2 cup (or more if necessary), until the dough starts to come together. When you have a nice dough ball, wrap in plastic wrap and stick in the fridge to chill for about 30 minutes.

While the dough is resting, heat oil (or your preferred sautéing vehicle) in a pan on medium-high. When hot enough, add shallots. Coat them in the oil before adding the lardons or bacon chunks. Turn heat down to a medium and allow them to work their magic. Cook them until desired crispness has been reached.

At the same time dough is chilling, mix the ingredients for the quiche batter. See note below for additional suggestions for spices. Depending on what I am adding into the quiche depends on the spice blend, but I always have my go-tos. You'll want to whisk the batter together vigorously in a bowl with a whisk. When everything is mixed together, set aside until you are ready to pour into your shell.

Once you've got your batter mixed and your shallots and lardons all nice and crispy, you'll want to prepare the other vegetables. For the asparagus I cut the bottoms off and sliced in half, top to bottom. The tomatoes were also halved and the cheese was cut into thin strips.

When you've prepped everything, turn the oven to 400°F so it can pre-heat while you are assembling the quiche.

On a well-floured surface, roll out the dough into the shape of your pan. Place the lardons and the shallots down first. Give the batter a good whisk to bring back up all the spices and pour over shallots and bacon. Place the vegetables on top of the batter and finish off with the cheese slices sprinkled throughout the vegetables. Do not fret if they sink. It's okay.

Bake for about 40 minutes, rotating once, until the crust is a nice golden brown and the batter should be set completely in the middle. Remove from oven, let cool for a few minutes, attack and enjoy !
Notes
For the Quiche batter ,  you can add all sorts of flavors that you like. Here are some spices and blends I like to add :
Paprika
Cumin
Mrs Dash
Dijon mustard (usually 1 - 2 teaspoons as it has a kick).
Minced garlic or garlic powder
Minced onion or onion powder
Any other spice blend that I may have on hand
Let me know what you did with your quiche ! The world is your oyster, so get creative ! Happy cooking and bon appétit !