I am now 10 days out and I have started to pack my suitcases because I know myself all too well. Over the next 10 days I will pack and repack my suitcases (yes, there will be more than one) at least a half a dozen times. I will agonize and scrutinize over each and every item who-knows-how-many-times. And I will guess and rethink what is going and what is staying.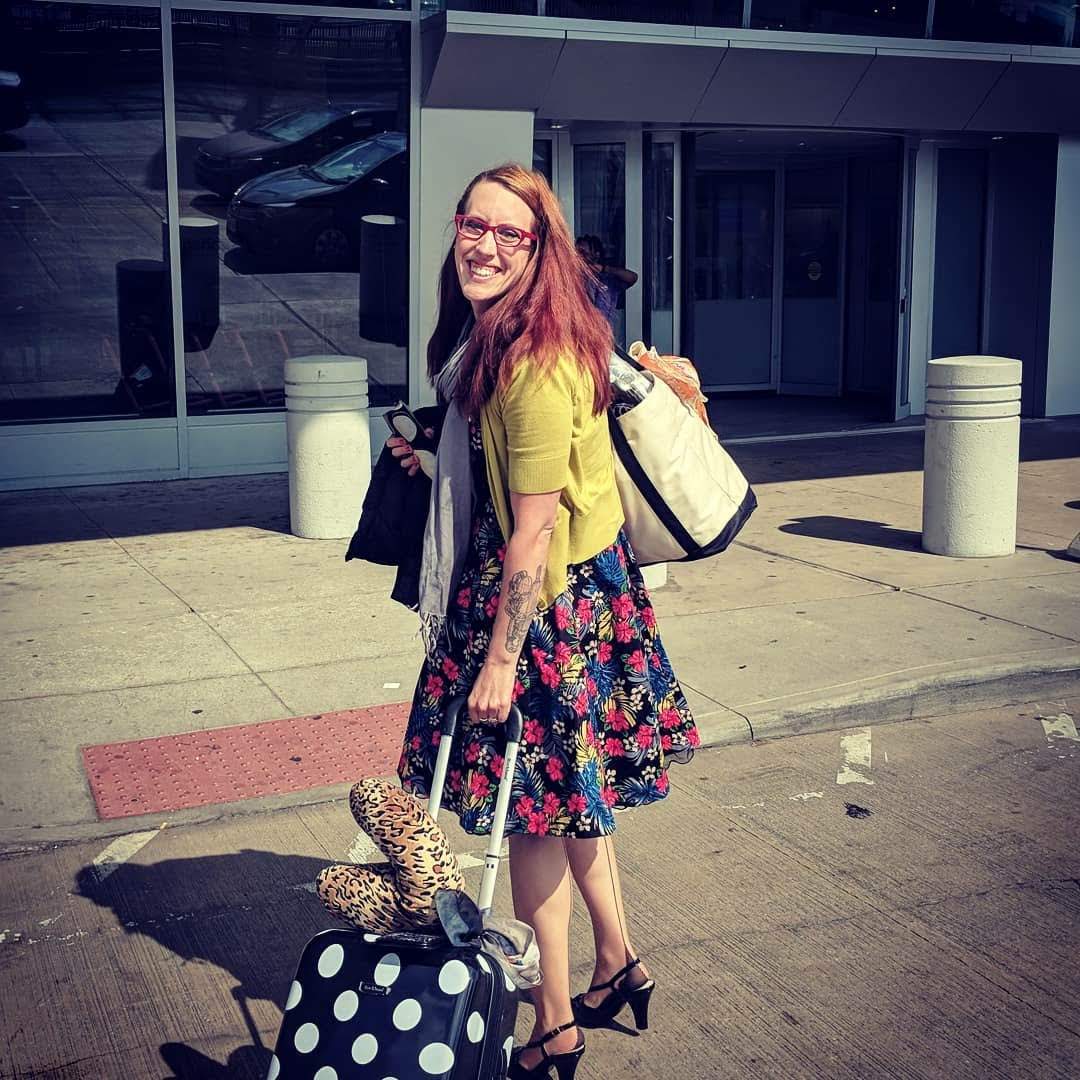 In my years of travel, both nationally and internationally, I have learned you have to pack smarter, not harder!
I once was stopped at the Canadian border and my travel companion car was searched because they thought we had "too much luggage for a 5 day trip." I never overpacked after that trip again!
Sarah's Tips for Travelling Abroad:
Start price checking flights ASAP. As soon as you decide you will be travelling abroad, start checking those prices! I use many outlets: Google Flights, Hopper, Skyscanner, but my favorite is Next Vacay.
Next Vacay is a service that sends alerts to your email inbox on a daily basis! It is $25 a year, but a well-worth-it investment! When you sign up, you select the airports you are willing to fly out of, where you would like to go and sit back and let those deals start rolling in. The deals that I am not interested in at the time I simply delete. It is nice having someone else do all the searching for me. This is a must-have when travelling! I booked my latest trip through one of their deals! I still haven't seen a ticket price that low ($495 RT to Paris) since then!
Apply for the TSA Precheck or Global Traveler card. Seriously, best money you will invest in when it comes travelling. This program is two-fold. The TSA Precheck is good for within the United States and the Global Traveler is good for international travel. They both allow you to go through the TSA Precheck line when you depart. Global Traveler lets you skip those long lines coming back into the country by filling out your information on kiosk and then presenting a receipt to the customs guard. Global Traveler is good for 5 years. You get a Known Traveler Number that you can input when you're buying your airline ticket. You have to go to your nearest Customs and Border Patrol office for an interview and fingerprints, but worth the time and money you save in the long run.
Familiarize yourself with airlines and their policies. It's a good idea that while you're researching flights and dates to also research airlines that you see in your search results. Each airline comes with its own list of pros and cons. Some airlines, like WOW, have killer prices for round trip tickets, but they fly out of a very limited amount of cities and you have to pay for all the extras (i.e. each checked bag starts at $70 min). I've flown them and I love them! Plus, your connecting flight is in Reykjavik! American Airlines also has a great basic economy fare ticket, but again, you have to pay for the extras (if you want/need). I've flown this twice and can't complain. But I do know that with these two lines I will be paying a little more at the gate (if I forget to pay beforehand) and sometimes, the price is worth it.
Research the country you will be staying in. This folks, is a no-brainer. Look to Instagram, Twitter, Facebook. There are plenty of ways to search for unique and interesting things to do. I tend to veer more towards Instagram as I already follow a gazillion bloggers and locals. They keep it interesting and I'm always looking for that off-the-wall thing or place to see/do. It's especially cool for my boyfriend who's a native! One thing to keep in mind is researching the weather when you will be at your destination. You don't want to take a bunch of clothes that you may not need or wear or may need different clothes. Layering is something to keep in mind (I learned this lesson my first time living in Paris and it has stuck some 17 years later).
Create a list of items you will be taking with you. This is a huge help for me. I not only like to visualize things but I also like to check things off as I pack them so I don't go back and look for it again. Also, it eases my semi-chaotic mind. Have I mentioned that I tend to pack and repack my suitcase at least 5 times before I eventually step on the airplane? I always take the list with me so when I am packing back up I can recheck things off as I put them back in my suitcase. I'm also prone to always leave something behind.
Checked bag vs. Carry on. Now, this little ditty depends on your length of stay and your location of final destination. My last trip to Paris, which was for a total of 10 days, I was able to pack everything into my rolling carry-on (20″ x 13″ x 9″). I also had a "personal bag" that I was able to pack full of all my essentials. Knowing my airlines requirements for carry-on items allowed me to meet all of the maximum restrictions.
What to wear on the big day. If you're anything like me, you rarely leave the house in nothing but something dressy. These days airline travel is not what it used to be. Flying used to be a thing of luxury, it was like going to a play or a show, people dressed up, they made a to-do about it. I usually wear a dress and heels (see the picture at the beginning of this post). But I'm also weird! Wear what makes you feel most comfortable because you could be running from one end of the airport to the next in order to get to your connecting flight, you could be sitting in at your gate for minutes or hours. You could have a flight that is one hour long of 14 hours long. If there is one thing I could recommend it would be compression socks. My feet usually swell when I fly and these compression socks have been my saviour! I even wear them during work. There is a color for every type of outfit.
Save room for an empty water bottle! Why spend the money on a bottle of water that'll cost you an arm and a leg when you can bring your own, it just needs to be empty to get through security. There are plenty of water fountains around the terminals, I have even seen specific water bottle refilling stations! I tried this the last time I flew and it was the best test! Not only did I have my water bottle with me in the airport and that was one less thing I had to worry about buying, I also had my water bottle with me during my vacation. Highly recommend you think about adding this to your must-have list for travelling.
Have any tips and tricks you'd like to share? Leave a note in the comment below. I'd love to hear your thoughts!
bisous,
Sarah