Simple Side Dish : Herbes de Provence Roasted Potatoes
This is my favorite way to prepare potatoes. Unless they're hasbrowns, then those need to be smothered, covered and capped ! This recipe is simple, easy, and you don't need to think very hard when it comes to preparation and I love that ! Especially after a long day of work . 
You can change out the spices to suit your mood at the moment. I've done cajun seasoning, rosemary and thyme, steak seasoning, Mrs. Dash. The world is your oyster, have fun !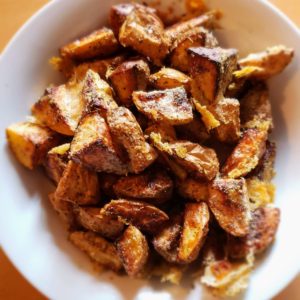 Simple Roasted Potatoes
An easy forget-me roasted potatoes recipe that goes well with any protein (or non-protein) choice for your meal .
Ingredients
2

tbsp

Olive Oil

Extra Virgin

1

tbsp

Herbs de Provence

6

each

Potatoes

small to medium

1

tsp

salt

kosher, fleur de sel
Instructions
Wash and dry the potatoes. Cut potatoes into 8 pieces ; cut in half and each half cut into 4 pieces.

Place potato chunks into a large mixing bowl. Add in oil, herbs and salt and toss until evenly coated.

With a parchment-lined baking tray, evenly place the potatoes onto the parchment paper. Scrape any excess oil and herbs from the bowl onto the potatoes.

Bake until the potatoes are a deep golden brown; tossing every 10 or 15 minutes.

Take the potatoes at when they have reached your preferred crunchiness.

Optional : toss on some grated parmesan cheese 5 minutes before taking the potatoes out of the oven. Kicks them up a notch and adds a whole other flavor level of awesomeness.