This is the only brownie recipe you'll ever need
I bake these at least every other week. I'm not a huge fan of brownies, but I can't stop eating them. Let me know how you like them by leaving a comment below ! Happy baking !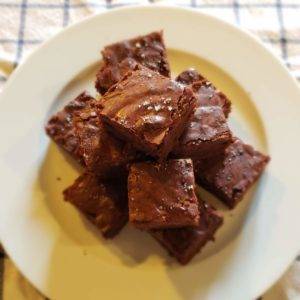 Practically Perfect Brownies
Easy and simple brownie recipe that delivers every time. This can be adapted with your preference of chocolate. All ingredients are likely to be in your pantry right now. What are you waiting for ?
Ingredients
8

OZ

Butter

unsalted, cut into chunks

9

OZ

Chocolate discs

70 % Saint Domingue

10.65

OZ

Sugar

granulated

4

each

Eggs

size large

0.15

OZ

vanilla extract

0.09

OZ

salt

kosher

4.6

OZ

Flour

All-Purpose

8

OZ

Chocolate discs

set aside, will be added at end
Instructions
Preheat oven to 325°F and prepare the pan you will be baking the brownies in. I prefer my spring form pan because it is easy clean up. I release the side and put down parchment paper, close the sides back up and then spray it with pan spray. I do not like to flour my my brownie pan, I'm more of a purist.

Set up a bain-marie. In a sauce pot, add tap water. You will need a bowl that is bigger and sits on top of the pot. Ideally a glass or stainless steel bowl would work best.

Make sure that the level of water does not touch the bottom of the mixing bowl you will be using. You can measure this by placing the bowl to rest on the pot, if there is no water on the bottom when you take it off, you are good. When you have verified the water level, turn the burner on to a medium high, place your bowl on top of the pot and bring to a steady rolling boil.

Add the butter and first quantity of chocolate (8 oz) to the bowl on top of the sauce pot. With a spatula, stir the butter and chocolate until they have both completely melted and are mixed together.

Pull the bowl off the pot and place on the counter. It's best to place on a hot pad or a thick towel as the bottom will be a little wet and hot.

In the bowl of a stand mixer fitted with the whisk attachment, whisk (low-medium speed) the sugar, eggs and vanilla until completely incorporated, about 5 minutes. You want your eggs to have some fluff to them.

With your mixer on low speed, slowly pour in about 1/3 of the chocolate and butter mixture. Allow to incorporate for 30 seconds. You are essentially tempering the liquids. You do not want to cook your eggs if the chocolate is still too hot.

When you have allowed the egg/sugar/vanilla mixture to be tempered with the chocolate/butter mix, continue to add in the rest of the chocolate to the batter in the mixing bowl. Be careful not to pour too fast so as not to spill up out the sides.

At this point, take off the whisk attachment and using a spatula, add in salt and flour and mix until fully incorporated. You do not want to see white streaks from the flour .

When all is mixed together, add the second round of chocolate discs.

Pour into your prepared pan and pop in the oven.

Bake for 35 minutes if you want your brownies a little gooier in the center, 40 minutes if you like a stiffer brownie.
Notes
If you're feeling frisky, sprinkle, on top of the brownies before you put it in the oven, with sea salt. It adds a lovely balance to the chocolate.