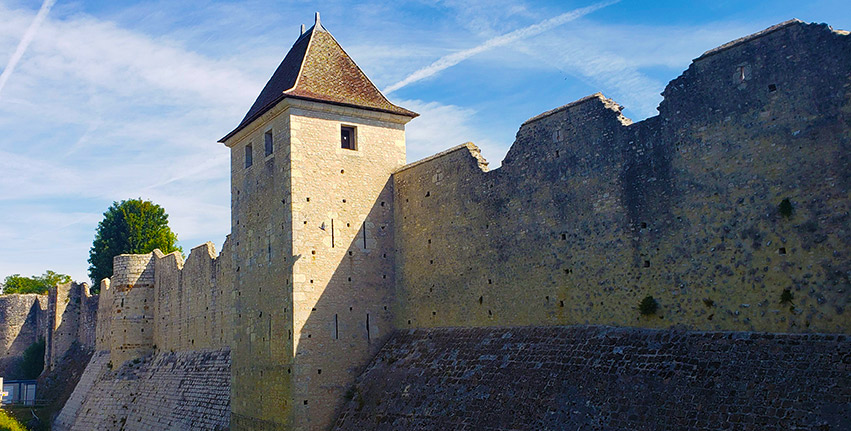 A few weekends ago, just right around the time the summer heat was starting to kick in and I'd started working Saturdays, my husband said he'd like to visit Provins and take me to the falconry show. I knew nothing of Provins, except that it's a medieval town and there would be owls at the show. I was hooked.
Provins is located at the very end of Zone 5 for the Navigo pass, is about an hour and 20 minutes from the Gare de l'Est; one end of the line to the other. There is no direct train to Provins so you'll have to deal with a handful of stops along the way, but they are quick and painless. There was a change of line at the Longville; here the wait at the quai was a little longer than normal, but not too much longer.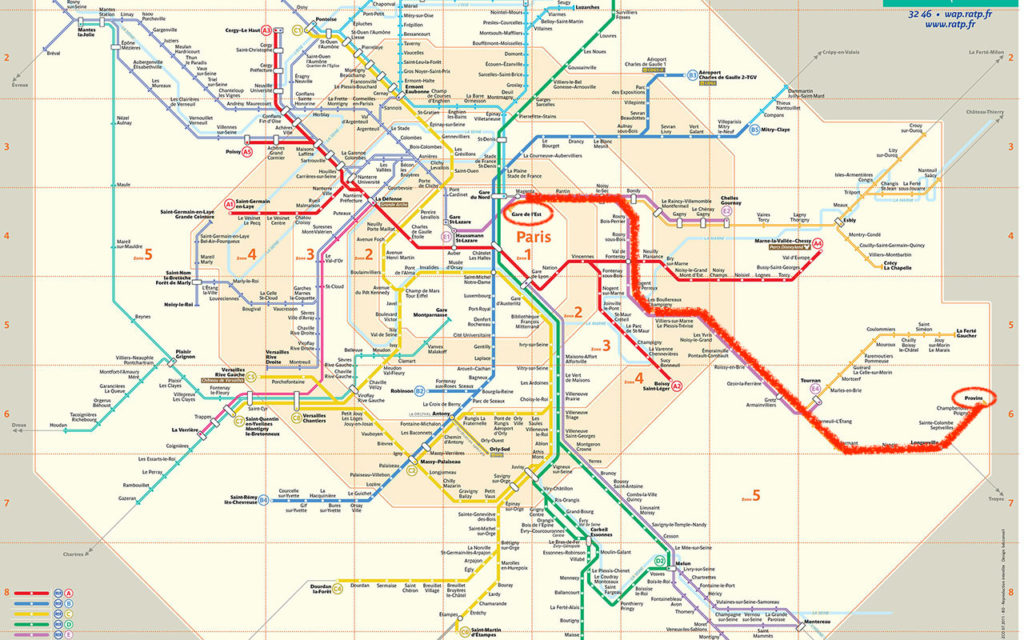 The town has two areas, la Ville-Haute (uptown) and la Ville-Basse (downtown). La Ville-Haute houses the older part of the city, where this part of town is still partially enclosed by medieval walls that date back as early at the 12th century. I highly recommend taking la navette (shuttle) from le gare (train station) to La Ville-Haute. The navette will drop you off right near l'office de tourism, where here you can pick up your tickets to any of the spectacles you've purchased and gather a map of the area. At the pinnacle of this hill lies a large, round building, traditionally known as la Tour César, the César Tower. More properly known as a keep. I could go into detail about these keeps, which are truly fascinating, but I'll keep to the subject at hand. Keeps, in general, are a tower within a medieval castle or a fortified residence that were used as a last resort if the castle should fall to under siege.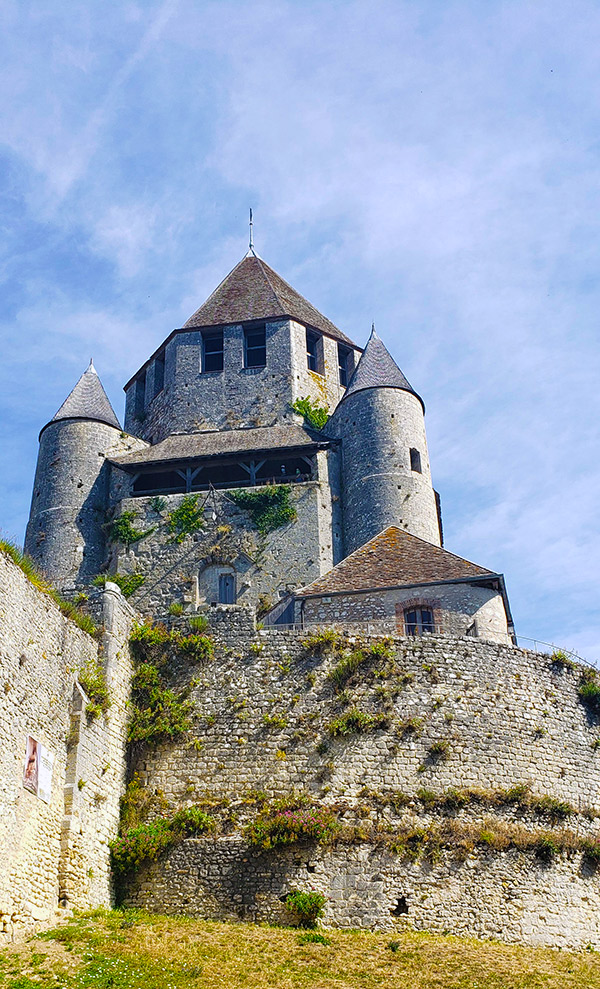 We did not venture up the tower because there was an entrance fee and we did not feel like buying tickets but it was 5€/person, for future reference. There is a day pass that you can buy to visit Provins and entry into the Tower is included. It all depends on what you'd like to do.
Provins is also known for it colombage (timber framework). Again, I could go off on a whole new post, but I think pictures will do this justice.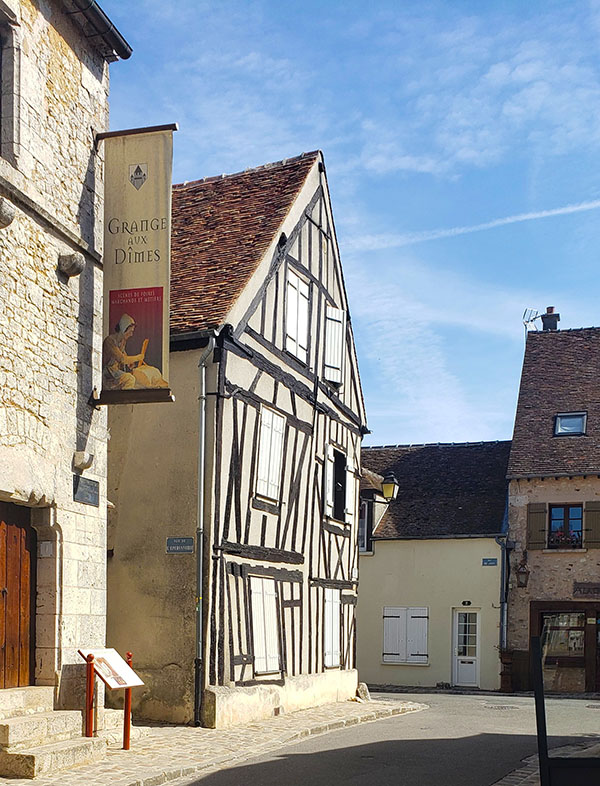 This type of architecture is found all over Germany, parts of England, France , Italy, and Spain. There's a whole host of information here that is a great start. I could deep dive into a rabbit hole and I'm going to spare myself (and my husband). Theses were more notable in la Ville-Haute than in la Ville-Basse, but it was still present throughout both parts of town.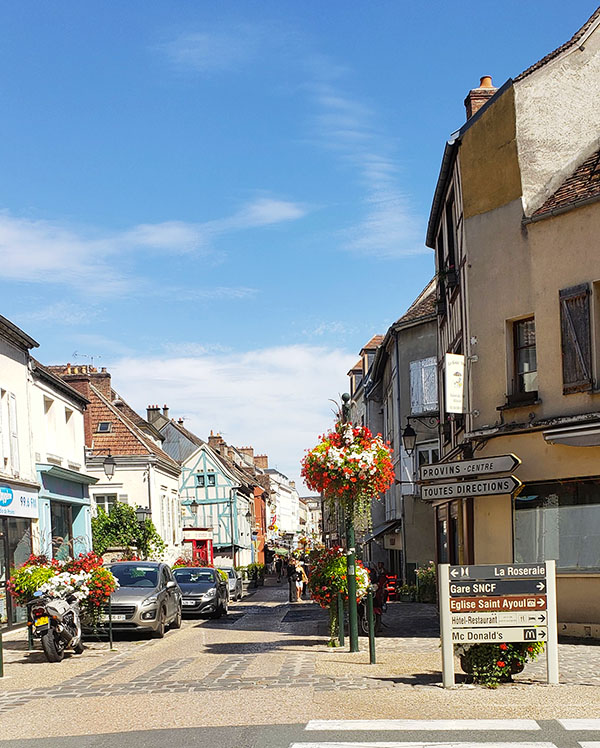 Provins is also known for its roses. (Unfortunately we did not schedule this into our day-trip, but this allows us to go back and visit again. So expect an update to this post in the future!) The Provins Rose Garden holds around 450 different varities of roses with the most famous being the Rose of Provins or "Rosa Gallica Officinalis," which was brought to the area by Thibaud IV of Champagne when he returned from the Crusades.
The original intention of our visit was Les Aigles des Remparts (The Eagles of the Ramparts). A falconry show that featured eagles, vultures, falcons, owls and other birds of prey. My husband purchased tickets online, in advance (we picked them up at the tourism office), but you were still able to buy tickets that day. You can start lining up 30 minutes before the gates open. Once through the gates, you're directed on where to seat. The staff had marked on the benches where the seats were and where you could sit (not on the red X). You were asked to keep your mask on when moving around before and after the show, but during the show you were not supposed to move from your seat or lift your arms in the air to try and touch the birds.
The show ran for about 45 minutes with a variety of birds of prey (as well as some other animals too). We chose the 14h30 showing, but there was also a later showing available at 16H30. Even in the middles of the afternoon, in full sun, it was still impressive. The ending was quite spectacular when they brought out all the birds that were featured in the show and did a display with them, allowing them to soar freely through out the event space. At the end we were escorted through the back area where the birds were housed for the show. I got to see the owls "up close" as well as the eagles and falcons. Simply the highlight of my day!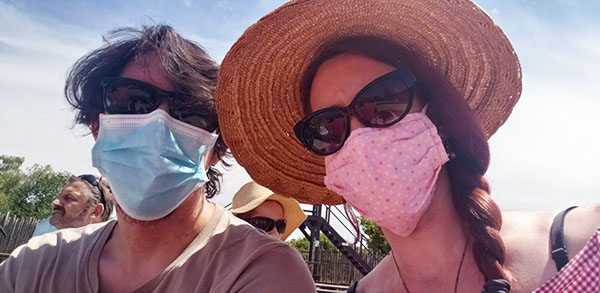 ☞ Can use your pass Navigo to travel to Provins for a day; at the end of zone 5. So you don't need to buy a special train ticket.
☞ 1 hour 20 minute train ride from Gare de L'Est.
☞ Easily accessible from the train station in Provins: either by navette or 30 minute walk where you walk through la Ville-Basse.
☞ Plenty of free things to see on top of some paid attractions.
Overall, well worth a day trip when you plan ahead. There are plenty of restaurants in both la Ville-Haute and la Ville-Basse that you can easily choose from. Or you can pack your lunch and picnic somewhere in one of the open spaces around the town. You can make this a day trip or a weekend trip, whatever you're in the mood for.