Where to see Christmas lights in Paris 2022 edition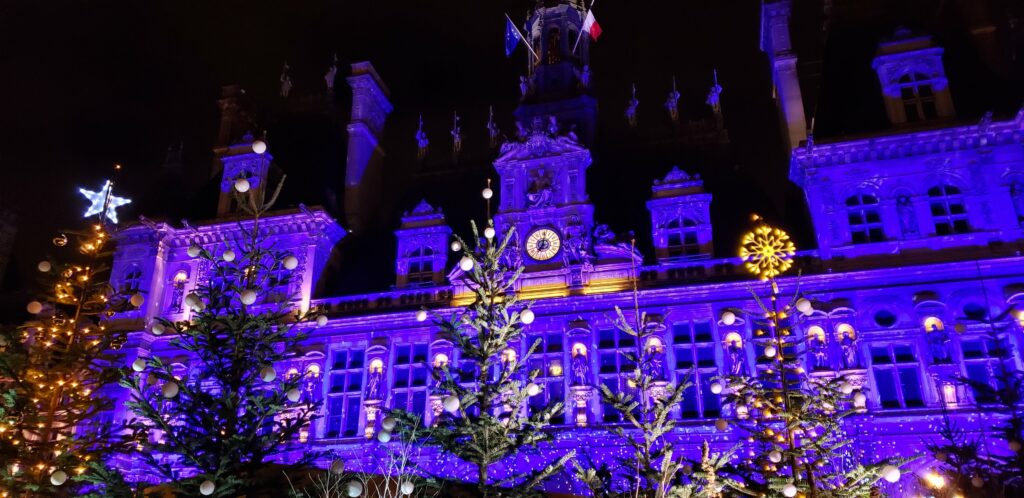 Christmas Lights in Paris 2022
Looking to get into the holiday spirit? Paris has a whole plethora of ways to get in the mood! Starting with Christmas lights in Paris 2022 !
Strolling Streets in Paris
Location: all along the Avenue Champs-Elysées from the Arc de Triomphe to the Place de la Concorde.
Metro: Tuileries, Place de la Concorde exit, Line 1.
Date: November 20, 2022 to January 2, 2023. 
Time: 5 PM to 11:45 PM, daily. 
Every year, some 400 trees that line the Champs-Elysées are draped in a Christmas glow and light up the entire boulevard. This year is a little different! Instead of the Christmasy red glow along the street, it will become a golden glow created by gold colored lights! Despite all the cars and traffic, Christmas is still in the air and the sight is one that you will not forget. I highly recommend starting at the end of the Tuileries garden by the Place de la Concorde and making your way up along the Champs Elysées. The square around the obelisk is decorated and the obelisk itself is lit up. 
Location: Avenue Montaigne, 75008, beginning at the Champs-Elysées to the Place d'Alma. 
Metro: Alma-Marceau, Line 9. Franklin D. Roosevelt, Line 1, 9. 
Date: November 19, 2022 to January 2, 2023. 
Time: 5 PM to 11:45 PM
Tucked away off the Champs Elysées is this magical street where the trees welcome you with their soft white glow. If anything, it's just for the trees that are covered in (what seems like) millions of tiny sparkles, as if the stars came down from the sky and wrapped themselves around the trees. Start at either end and stroll down for maximum awe. This year also brings along something different. The Comité Montaigne has created a unique shopping experience to add to the festivities called Christmas Montaigne, running Sundays in December from 11 AM to 7 PM, guests are invited into the Montaigne houses and their surrounding space to explore whatever Christmas surprise may be hiding behind these majestic doors. 
Rue Faubourg Saint Honoré
Location: Rue Cambron et Rue Faubourg Saint Honoré, 75008
Metro: Pyramides, Line 1, 14. 
Date: November 17, 2022 to January 30, 2023. 
Time: 5 PM to 11:45 PM
Not far off the Place Vendôme, lies this street that houses all the high-end stores (Chanel, Dior, Longchamp, Christian Louboutin, Lowe) as well as their famous Christmas decoraitons that adorn their façades. On the corner of Rue Cambron and Rue Saint Honoré, across from Dior, you'll find the charming hot air balloon in front of the church Notre Dame de l'Assomption where you can get your photo taken here day or night. This year's raffle will support Premiers de cordée, an association that introduces sports to those who may not have access to it, including children who are hospitalized. Tickets are 10€ and the winner will be announced on the Winter Time Paris instagram page. 
Location: Rue Montorgueil, 75002
Date:
Time: 5 PM to 11:45 PM
Walking the length of the rue Montorgueil, you feel the Christmas spirit spilling out of the store windows and doorways. The business owners along the street add to the charm and magic that is Christmas. Make sure to walk all the way down to the steps of the Saint Eustache Church to take in all the sights and lights. Allow time to do a little Christmas shopping while you're strolling along, there's going to be something for everyone. You can even make reservations or pick up food items for your holiday party!
Location: Pl. Vendôme, 75001 Paris
Metro: Pyramides, Line 7, 14. 
Date: November 22, 2022 to January 2, 2023. 
Time: 5 PM to 11:45 PM
The classic Christmas trees that glitter white and gold pop up every year in the square are the perfect photo opportunity. The twinkle of the white lights and the colors of the doors that look onto the square evoke a magical space. If you catch the square at the right moment, you feel this awakening Christmas spirit fill up the place! 
Location: 52 Rue de Rivoli, 75004 Paris
Metro: Hôtel de Ville, Line 1, 11. 
Date: Starting on November 9, 2022.
Each year, the BHV presents a theme through her window displays that also flow throughout the department store. There can also be activities included for little (and big) ones. This year, the BHV partnered with Région Sud, Provence Tourisme and Marseille Tourisme to bring some provençal flair to their Christmas magic. Escape to the south of France through the window displays of the BHV store and wander inside to see what else is in store for you! 
Location: 40 Bd Haussmann, 75009 Paris
Metro: Chaussée d'Antin – La Fayette, Line 7, 9.
Date: Starting November 16, 2022. 
The Galeries Lafayette always has a breath-taking Christmas display between the windows on the outside of the department store and what's displayed underneath the iconic cupola. This year's theme is called Planète Sapin by Florent Chavouet, where the Christmas tree suspended under the cupola is the bright and shining star. There will be 11 scenes that take you through the Planète Sapin universe. If there's only one department store you make it to this year, this has to be the one. 
Location: 64 Bd Haussmann, 75009 Paris
Metro: Havre-Caumartin, Line 3, 9. Haussman Saint-Lazare, RER E. 
Date: Starting on November 9, 2022
For Christmas 2022, the Printemps has invited everyone under the Big Top with a journey through their 4 magical scenes spanning 11 store-front windows! Everything from clowns to trapeze artists and a giant ball, these window displays are not to be missed. You'll also want to make sure you make it inside to check out the cupola and the decorations within the store. The magic just keeps growing! 
Location: 24 Rue de Sèvres, 75007 Paris
Metro: Sèvres-Babylone, Line 10, 12. 
Date: Starting on October 28, 2022. 
The Bon Marché brings out all the stops this year by transforming into a giant Christmas bulb workshop! In partnership with Toqué Frères and as part of the continuation of the 170th anniversary celebrations, the store has decided to transform the four shop windows into an imaginary workshop where elves are creating Christmas decorations. The themes for the four windows are the Blower, the Coloring, the Printing, and the Drying; a walk through the Christmas bulb-making process. Continue the fun and spirit as you browse inside the store (and potentially finish your Christmas shopping). 
Location: 9 Rue de la Monnaie, 75001 Paris
Metro: Pont Neuf, Line 7.
Date: Starting on November 9, 2022
The Samariatine is rocking in Christmas for its second year with no exception. The store's theme of rocking to the tune from rock to disco and everything in between. Each window brings its own interpretation to each musical genre. Not to mention, there is a station where you can write your letter to Santa and sent it out! The windows that are found along the rue de la Monnaie have partnered with the Centre National de Danse to depict the history and evolution of ballet through to contemporary dancing. And have no fear, the giant advent calendar along the balutsrades have made an appearance this year! 
Park Festivals and Events
Location: Jardin des Plantes, 75005 Paris
Metro: Gare d'Austerlitz Line 5, 10 RER C, Jussieu Line 7, 10, Place Monge Line 7, Censier-Daubenton Line 7. 
Date: November 14, 2022 to January 15, 2023 (except the 24 and 31 December). 
Time: Sunday to Thursday from 6 PM to 9:30 PM and Friday and Saturday from 6 PM to 11 PM. 
Tickets: Starting at 17€.
This year's light festival brings us, the humans, into the worlds of the small. The World of the Minuscule in Large, where all the small things are brought to life and illumination throughout the garden's grounds. The festival is made in partnership with the China Light Festival where you can stroll throughout the garden and admire everything from giant butterflies, spiders, ants, lightning bugs and even some microorganisms. This year's festival is sure to not disappoint! 
Location: Bercy Village, Cour Saint-Émilion, 75012
Metro: Cour Saint-Émilion, Line 14. 
Date: November 17, 2022 to January 4, 2023
Time: 10 AM – 2 AM
Tucked behind the Gare de Lyon train station lies Bercy Village that always puts on a show-stopping display of Christmas. This year you'll be walking under the clouds while being surrounded by hot air balloons in celebration of Christmas. Not only will you be able to see all the Christmas decorations and displays, but this open-air shopping mall will allow you to get your shopping done at the same time. Don't forget to pose by the giant Christmas tree for the prefect photo-op. 
Lumières en Seine (Parc de Saint-Cloud)
Location: Domaine de Saint Cloud, 1 avenue de la Grille d'Honneur, 92210 Saint-Cloud
Transportation: Metro line 10, terminus Boulogne- Pont de St-Cloud, Tramway: T2 Parc de St-Cloud. 
Date: November 18, 2022 to January 8, 2023
Time: 5 PM to 9 PM
Tickets: starting at 20€ for individuals, 65€ for families
This year, the Lumières en Seine has returned to the Parc de Saint Cloud, just on the outskirts of Paris, past La Défense. Embark on a journey through the historical domaine de Saint Cloud as you discover illuminations, sculptures, light projections and much more. You'll traverse the garden in the dark, only the Christmas lights illuminating the path (over 2 km) that will bring you up against water displays, water lilies, swans, pyrotechnics and even a hot air balloon! Entrance is through the gate Clémenceau. Book tickets early for your chance to see this spectacular event, you will not want to miss this!
Location: Parc Flora, 118 route de la Pyramide, 75012 Paris
Date: November 24, 2022 to January 2, 2023 (closed the 28 and 29 November, 5, 6, 12, 13, and 25 December).
Métro : Château de Vincennes, Line 1, RER A
Time: 5:30 PM to 9 PM
Tickets: starting at 22€
You will embarque on a journey through the Parc that has been draped and wrapped in lights of shapes and colors. Let yourself (and the ones you're with) get lost in this year's theme, Les Sentiers Lumineux de Noël, whether it is through the enchanted Forest, the Gobo walk, the Laser Garden or the Cathedral of Light that have been installed this year. This is certainly going to be an amazingly immersive experience that will set the tone for the holiday season. 
Location: Parc de la Villette, 211 avenue Jean Jaurès 75019 Paris. 
Transportation: Metro: Porte de Pantin Line 5, Porte de la Villette line 7. Tram: 3bis Porte de Pantin, Porte de la Villette- Cité des Sciences et de l'Industrie/Ella Fitzgerald
Date: December 15, 2022 to January 1, 2023. 
Time: Tuesday to Sunday from 5 pm to 11 PM. 
The light festival at La Villette is back this year offering 8 contemporary light installations that you can enjoy through out stroll. This light festival is free and accessible to all! This is something that if you're on a budget you'll want to add to the top of your list. You'll see everything from a field filled with fireflies, lights lit up by singing and bicycles, and the constellations in the sky. Something not to miss is the Winter Funfair that is located at the Place de la Fontaine-aux-Lions.