Thanksgiving in Paris 2022: tips for preparing your own feast
Where to get your American Thanksgiving ingredients in Paris.
Have no fear, as an American in Paris, there are plenty of options for a turkey dinner. Now, it may not be your grandma's cooking (unless she was classically French trained), but it's the next best thing you'll get being away from home. Whether you're looking to dine out, take away, or preparing it yourself, here's some helpful hints if you're an American in Paris during Thanksgiving and you're craving that down-home Turkey dinner. 
If you're not an American in Paris, but you're looking for some good recipes or suggestions, this article is also for you! I've got a selection of recipes I like to use for Turkey day, so if you're looking for something different or need some inspiration, please enjoy ! 
Thanksgiving Supplies in Paris
Preparing the Turkey Dinner yourself
Where to buy your staple ingredients
I have some glorious news! You do not need to smuggle in your Thanksgiving staples when you come back from summer holidays. There are several places around Paris that you can find down-home traditional American ingredients; particularly the canned or boxed kind. Have no fear, we are not totally lost in the wilderness here. 
Here are my favorite haunts for American staples I cannot cook without : 
In Good We Trust  
Address : 67 Rue Quincampoix, 75003 Paris
Metro : Rambuteau, line 11. 
This should be your one-stop-shop any day of the year if you're an American living in Paris. You can find (almost) anything and everything here. If you are looking for something specific, be sure to ask at the counter. They'll be able to offer sound and solid advice, particularly if they do not offer the item, they may be able to tell you where to find it ! 
This happens to be my favorite shop to buy all my American staples. Centrally located (not too far from Châtelet), you're never too far anywhere in the city. 
Here's their current listing for all the Thanksgiving staples you'll need for your spread. 
The Real McCoy 
Address : 194 Rue de Grenelle, 75007 Paris
Metro : La Tour Maubourg or Ecole Militaire, line 8. 
This shop has been around for some time and is a staple in the American expat community.  Here, you will find all your Thanksgiving staple needs from Stove Top boxed stuffing to Ocean Spray Cranberry sauce, fried onions, and the like. Another one-stop-shop for your Thanksgiving dish needs. 
Here is a list of all the items (sweet and savory) that have and their prices for all your Thanksgiving cooking needs. 
Recipes to cook for your Turkeey Day feast
If you're looking to prepare your own feast in Paris, here's the list of recipes you'll be able to easily whip up in your French kitchen for your American spread : 
Go-To Homemade recipes:
Green bean casserole: You cannot go wrong with the classic Campbell's green bean casserole recipe for your dinner. If you can't find cream of mushroom soup, I've got a recipe here where you can make your own. It's a lot easier than you think and whips up in no time ! 
Butter-roasted Sweet Potatoes : I'm a huge fan of sweet potatoes and i freaking love roasted vegetables. They're easy and painless; you pop them in the oven and forget about them until the timmer goes off (or your nose smells the golden goodness). 
Mashed potatoes : You cannot go wrong with creamy mashed potatoes, amiright?! You also cannot go wrong when you have an Ina Garten recipe and this one takes the cake. If you want to do something a little different, you can always try Julia Child's Potato Gratin Dauphinois. 
Roast Turkey : This Alton Brown method is the one my mother swears by and sings her praises to during the holidays. I have to agree, it is quite the game changer. Now, you may need to do a little adjustment here in terms of quantities (I'm not sure you can find a 6 to 7 kg bird in Paris). But this would totally wow the socks off your guests . This also requires planning and space. 
Stuffing : I am known to crave stuffing at the most random time throughout the year. Since moving to Paris, finding Stove Top stuffing mix has become a sort or rare unicorn (among many other things). This recipe from The Kitchn really helped curb those cravings. 
Cranberry sauce : The canned version is all good, but homemade is way better. And Ina Garten's Cranberry Fruit Conserve is the best thing you'll serve at the table. My mum found this one and has ditched the canned version indefinitely. 
Pot drippings Gravy : Another Alton Brown staple that makes your time in the kitchen on the big day less of a hassle. Make ahead Gravy ? Ummm, yes please ! Luckily you can find Worcestershire sauce at your local Monoprix or even G20 (and I'm sure other markets as well). If you're in Paris and can't find any, here's a good site that has substitute options that you're already bound to have in your kitchen arsenal. 
Maple Pumpkin pie : This may be behind a paywall, if it is, shoot me an email. It wouldn't be thanksgiving without a classic pumpkin pie. Throw in some maple syrup to round it out and it's even better.
Grandma Marge's dinner rolls : This is regular at my extended family's Thanksgiving (and Christmas) celebrations. It's one of the items I look forward to every year !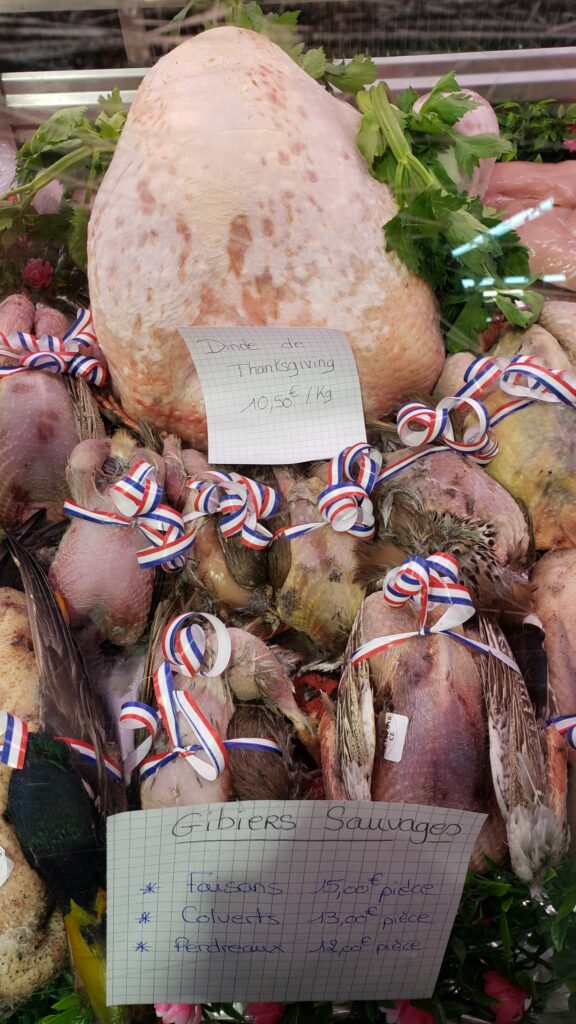 Gobble, gobble : what the heck to do about the turkey
Whole turkey is not something you can usually get year-round in Paris. It's recommended to ask your local butcher as soon as possible because it will most likely need to be special ordered. If you can get your hands on a dinde de Bresse you'll be in good luck. Luckily, whole turkey is becoming easier to find these days so you'll jut have to ask and plan ahead. 
If your butcher does not have the ability to get a whole turkey for you, here are a few French options to go with that stick with the "stuffed bird" theme. 
Poulet de Bresse – The best option if you'd like to have a traditionally looking roasted bird as the center piece of your feast. This bird has the reputation of being the best quality in terms of table chicken. My local butcher has these all the time and I will say they are simply divine to cook. 
Poulet de Cent Jours – literally chicken of 100 days. It is considered the Rolls-Royce in the chicken world due to its impeccable texture and flavor. Because of the conditions of raising this bird, the body is typically bigger than your traditional bird you'd find at the butcher. Perfect for larger groups.
Chapon – A large, tender bird perfect for roasting for your dinner. This bird is a rooster that has been castrated before reaching its maturity. This process improves the quality of meat because there is a lack of testosterone which can make the meat more tough. This one will be harder to find in the States, but in Paris, you can ask your local butcher if they can get you one. 
Caille – If you are really feeling liking upping the anty for you Thanksgiving feast and going totally French, serve individual quails for each guest. Depending on the size you may need up to 2 per person for your feast.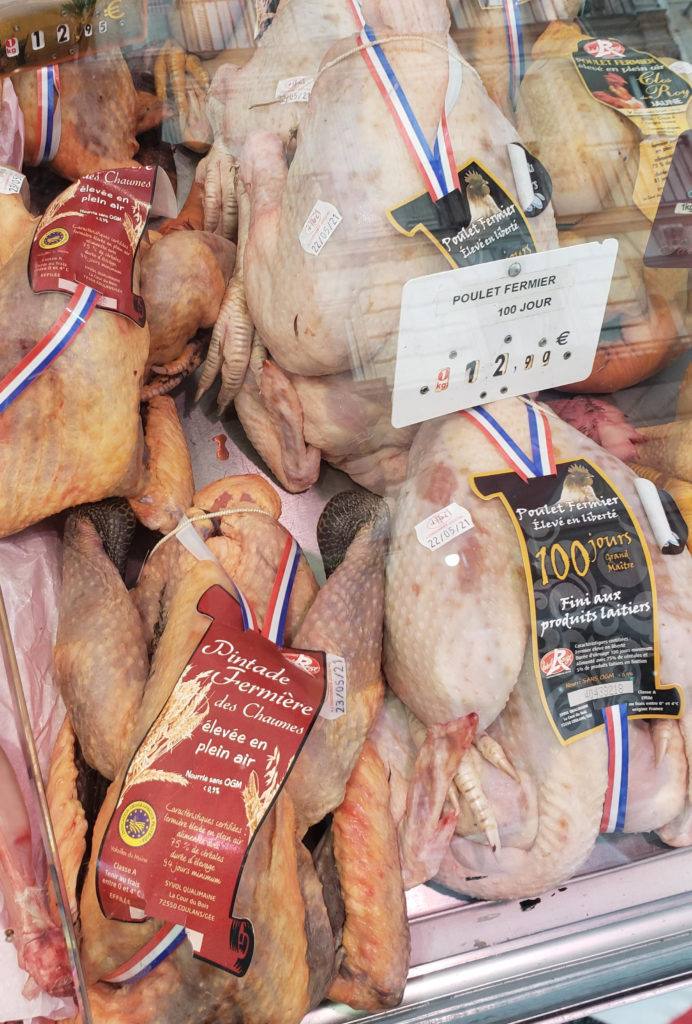 Side note on ordering a whole bird from your butcher, especially if the head and feet are still attached to said bird. Which is usually what you'll find at your local butcher shop. Ask for the bird to be préparé (or they may ask you immediately when you order it). This means they will cut the head and feet off as well as stick the giblets inside (if you want) of the body. 
Going out to eat for Turkey Day 2022
There are quite a few food hotspots in Paris that will be serving a Turkey Day dinner. If you really don't feel like spending all the time in the kitchen and want to support a local restaurant,  here's a few favorites where you'll not want to miss this year : 
Address : 7 Rue Saint Marc, Paris 75002
Metro : Grands Boulevards, lines 8,9 or Bourse, line 3. 
Dine in : starting from 70€ . Menu here. 
Date : November 24th and 25th. 
Time : 16h30, 18h30, 21h on the 24th and 18h30, 21h on the 25th. 
Take Away : starting from 100€. Menu here. 
Pricing : Serves 2 people (100€), 4 people (200€)or 8 people (400€).
Date : November 24th and 25th. 
Available for pick-up or delivery within the 75. 
Address : 4 rue Mahler, 75004 and 17 Rue des Écoles, 75005 Paris
Metro : Saint-Paul, line 1 and Cardinal Lemoine, Line 10. 
Dine in : 46€ per person. Menu and information here. 
Date : November 24th.  
Time : 18h or 20h30. 
Email bia.thanksgiving@gmail.com for reservations based on a first come, first served basis. 
Address : 85 Avenue Bosquet, 75007 Paris
Metro : Ecole Militaire, Line 8. 
Dine in : Call for more information. +33 (0)9 54 50 83 31
Date : November 24, 25 and 26. 
Time : from 19h to 22h. 
Take Away : Options to order dinner for 1 (50€) or dinner for 2 (100€) . Pick up time is between 14h and 18h on the 24, 25, and 26. 
Address : 98 rue Lepic, 75018.
Metro : between Abbesses and Lamarck-Cauliancourt, line 12. 
Dine in : à la carte. The menu can be found here.
Date : November 24. 
Time : make a reservation here. 
Joe Allen
2022 INFORMATION NOT AVAILABLE AT TIME OF POSTING. WILL UPDATE SOON. 
Address : 30 Rue Pierre Lescot, 75001 Paris
Metro : Etienne Marcel, Line 4. 
Dine in : 
Date :
Address : 17 rue Breguet 75011, 10 rue de la grange aux belles 75010, 53 rue du Cherche-Midi 75006. 
Metro : Richard Lenoir – line 5, Jacques Bonsergent – line 5, Saint-Placid – Line 4. 
Date : order 24 hours in advance, pick up at any Ten Belles location Thursday 24 November to Saturday 26 November 2022 between 11 AM and 5 PM.  
You can order pie(s) here from Ten Belles again this year! They are offering two delicious flavors: brown butter pumpkin pie and salted caramel apple pie. Each are 36€ and feed 6 to 8 people.