What to do in Paris in the fall 2022
Fall is fast upon us (I think), which means chunky sweaters, trench coats, scarves and umbrellas here in Paris. September starts our strong with la rentrée (the entry) or the start of the school year. There's an energy in the air as Parisians return from their relaxing and laid-back summer vacations of August and the city starts to wake back up. The days start to get shorter and the nights longer, summer starts to bid adieu. You can keep up with the sunrise and sunset of Paris here. 
Fall runs from September 23, 2022 (the autumn equinox) to December 21, 2022 (the winter solstice) this year. And fall means a run of the gamut when it comes to weather, so you'll want to be prepared for anything.  Since the weather can change at any minute (typical for Paris weather) here's a good idea of what we'll be getting into weather-wise. It's a very good idea to always have an umbrella on you. You never know when it will rain and Parisian weather is known to be moody and change at a moment's notice. Fall in Paris is also the perfect time to layer up. The mornings start out cold and warm up during the day. 
With the start of the new school year means the start of a whole bunch of activities, events and expositions in Paris. Here's some highlights you can look forward to this fall. 
What to do in Paris in Fall 2022
Events in and Around Paris
Nuit Blanche 2022, 20 years later.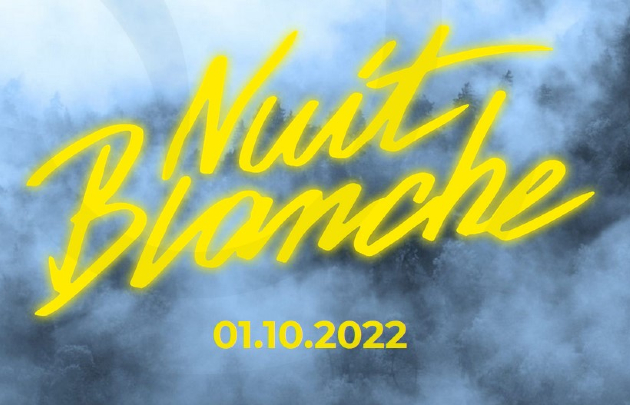 Translated as White Night (aka all-nighter), this year is a little special. It's the 20th anniversary of this massive one-nighter. The city comes alive with events, concerts, and installations. Traditionally, museums are free and open later than usual. This year's theme is called "Delight's Garden", inspired by the piece by Jérôme Bosch titled Jardin des Délices. This is the perfect opportunity to wander the streets of Paris and allow yourself to get lost in the city.
Be prepared for potentially long wait-times to get into certain museums and establishments. If you are planning on visiting any specific places, double check their website to see if you need to pre-book any tickets for entry. Click here for a fill run-up of the events by arrondissement (in French).
Date: Saturday 1 October evening to Sunday 2 October.
Admission: free 
Location: all over Paris. 
The Home and Shopping Fall Trade-Show has been around since 2006 and brings together a multitude of participants that have come together to showcase the best of the best for the fall season. You'll find everything from shopping opportunities, to demonstrations, deals, and hands-on exhibits. With brands from all over that center around house and homewares, food and shopping, you'll be able to find inspiration for every area of the home.
There's also a section dedicated to France and her local specialties. You'll be able to taste and sample producers dishes as well as talk with them and discuss their goods. So be sure to go with your belly empty and ready to taste your way through France. This is also a good opportunity that if you're looking to buy wine and such, you'll be able to meet directly with the producers, taste their product and buy at a lower deal. Thomas and I did this with wine at the Salon d'Agriculture at the beginning of the year. 
Date: 21 October to 30 October, 2022 10 am to 9 pm. 
Admission: 7€ online, 9€ on site. 
Location: Paris Expo Porte de Versailles, hall 7.2, 1 Pl. de la Porte de Versailles, 75015 Paris
What's better than a long weekend (5 days) dedicated solely to chocolate? That'd be the Salon du Chocolat that's being held at the expo center at the Porte de Versailles from October 28 to November 1, 2022. This trade-show's main focus is chocolate and its unique capabilities. From live demos, exhibitions, a fashion show, competitions, and a space dedicated strictly to industry professionals, the Chocolate trade-show is bound to please everyone. Some famous faces in attendance include Thierry Marx, Jeffrey Cagnes, Philippe Conticini, and Anne Coruble. You can watch these big names in the game as they provide demonstrations on various subjects. Take a peak at the what's going on in the world of chocolate and the trends that are being developed.
Date: 28 October to 1 November 2022
Admission: starting at 15,20€n with several different packages. Info here. 
Location: Porte de Versailles Pavillon 5, 1 place de la Porte de Versailles, 75015 Paris
Salon International du Patrimoine Culturel
The International Heritage Fair brings together over 300 exhibitors together in the Carrousel du Louvre that centers around international cultural heritage. This means a focus on conservation, sustainability and development in the preservation of the cultures throughout the world. This year there will be over 100 workshops and art manufactures present that will be showcasing their abilities within the sector. This year's theme is devoted to inheriting the future and how the art of cultural heritage can take a more precise and focused stance on this realm moving forward. 
Date: 27 to 30 October 2022
Admission: tickets starting at 7,20€
Location: Carrousel du Louvre, 99 rue de Rivoli, 75001. 
Fête des vendanges de Montmartre
Did you know there's a vineyard in the middle of Montmartre? Did you know there's a celebration every October for the harvest of the vineyard? A packed weekend of tastings, markets, music, activities, celebrations, and a parade and is something not to be missed. This is the 3rd most popular seasonal event that happens in Paris and I look forward to it every year. You can even book a visit to the vineyard, which isn't usually open to the public and is certainly a highlight of the weekend. This is a must for the calendar. 
Date: 5 Octobre – 9 Octobre 2022
Admission: free
Location: Montmartre, 75018. 
Salon des produits Made in France
Another trade-show but this time the focus is everything is 100% made in France. The "it" show that brings together producers in every sector, with over 800 exhibitors! This year's expo celebrates 10 years bringing together French producers from all over the country under one roof to introduce to the world their products. 
Date: 10 – 13 novembre, 2022. 
Admission: free during pre-registration, 10€ on site, reimbursed on first purchase. 
Location: Porte de Versaille Pavilion 3, 1 Place de la Porte de Versailles, 75015. 
Expos and Exhibitions in and Around Paris
Füssli, the Realm of Dreams and the Fantastic - Musée Jacquemart-André.
I will always feature the new temporary exhibit at the Musée Jacquemart-André as it is my absolute favorite museum and one that is often overlooked. Around 60 pieces from the painter Johann Heinrich Füssli, with a peak into his career that is not very well-known in France. 
You will see pieces that gathered inspiration from famous works such as the Bible, stories from ancient mythology and even works of Shakespeare. Füssli's style evokes that fine line between fairy tale and nightmare in a dream state. His pieces provoke the torment that one deals with in determining good from evil. The intimate exposition space will allow the viewer to be up close and personal with the works and really study their detail and appreciate the works by Füssli. 
Admission: starting out at 16€
Date: 16 September 2022 to 23 January 2023
Location: Musée Jacquemart-André, 158 blvd. Haussmann, 75008. 
Frida Kahlo at the Palais Galliera.
The Palais Galliera is conjunction with the Casa Azul in Mexico have come together to display over 200 pieces from the collection of the artistic icon Frida Kahlo. The works span her lifetime and provides an intimate look into how her private life shaped the artist she was and is today. Items included in the exhibition include things such as articles of clothing and jewelry, letters, cosmetic and medical items.
Admission: start at 15€
Date: 15 September 2022 to 5 March 2023
Location: 10 Avenue Pierre 1er de Serbie, 75016. Metro: 9-Iena
Venise Révélée: The Grand Palais Immersif at Bastille.
Be transported to Venise, Italy without leaving Paris, France! A look into this magical city that has attracted and marveled so many visitors over the years. You are transported on a digital tour of the city. Not only do you get to be in awe of the architecture, but you will also learn along the way about how the city's infrastructure has influenced business and leisure in the city. You get a peak into the parts that not many are privy to, the fact that Venise is a floating city perche atop stakes stuck in the mud. This deep dive into the city from many angles leaves you with a better understanding and appreciation of this fragile city perched on top of poles. 
Admission: tickets starting at 16€
Date: 21 September 2022 to 19 February 2023. 
Location: Grand Palais Immersif, 110 rue de Lyon, 75010. M: Bastille. 
Autour du Monde: La Traversée des images at the Musée Albert-Kahn.
The museum finally opens its door after years of renovations and is exhibiting a collection that focuses on travel from the 20th century to present day. The items in the exhibition are taken from the travels of Albert Kahn (the same man whom the museum is named after) from 1908 to 1909. These travels kickstarted his project, the Planet's Archives, that is now the center of the museum. The exhibition takes you throughout the museum and into the gardens. The massive wall of photos is the most impressive part of the exhibit. You are taken along on the journey through these photos, as well as interactive and educational pieces that are through out the property. 
Admission: tickets starting at 8€, includes access to the gardens and collections. 
Date: permanent collection
Location: Musée départemental Albert-Kahn, 2 Rue du Port, 92100 Boulogne-Billancourt
Rosa Bonheur at the Musée d'Orsay.
In celebration of the 200th anniversary of the birth of famed artist Rosa Bonheur. In collaboration with the Musée des Beaux-Arts in  Bordeaux, where Bonheur was born and the Musée d'Orsay in Paris, an exhibition that brings a major focus on her life, her accomplishments, and the impact she had through her art. With over 200 pieces of her works (paintings, sculptures, photographs) this large collection is a true celebration in her honor. Items will be coming from public and private collections from the United States and all over Europe. 
This is certainly not an exhibit you want to let pass you by.  
Admission: tickets starting at 16€
Date: 18 October 2022 to 15 January 2023. 
Location: Musée d'Orsay, 1 rue de la Légion d'Honneur, 75007.