Winter Holidays in France 2020
This article is part of November/December linky for bloggers organized by the blog Expat in France. Feel free to check it out! There  you will find heaps of useful advice and information about living in France, navigating the French red tape and better understanding the French culture!  
Winter Holiday season in France 2020
This winter holiday season in France is going to be a little different, considering it's 2020, we're in the middle of a world-wide pandemic and I've moved 4500 miles away from my childhood home. This is my second holiday season in France, but my first as an official resident. Christmas is one of my favorite holidays. The warm, glowing lights that decorate the streets. The smell of spices that waft from the kitchen. The chill that electrifies the air and carries an energy of anticipation. I can't really put my finger on what it is exactly, but there's a coziness that wraps everyone up and gives them a boost of cheer even through the dark times. 
This year is no different. In fact, this is year is far from anything in my 36 years of existence that I've known or experienced. This year is unlike any other. This year is certainly one for the books. This year is one where we can create new memories and reinvent new traditions and I've never been more excited. 
2002 was the first year that I was not home for Christmas. I had arrived in August for my year abroad with my hometown's local Rotary Club. It was a rough couple months as I was struggling with adjusting to a new lifestyle and culture as well as being far away from my family
I had made friends at school that helped me feel at home, particularly during the holiday season. I would tag along with some girlfriends and their families on their adventures during the holidays. It was a perfect time to discover the holiday traditions that the French cherished and loved dearly. 
France has its own sort of magic when it comes to the holiday season. Yes, there's the typical lights, trees, store decorations, food and activities. But it seems there's something in the air that is different. Maybe it's the magic of the City of Lights that adds that extra pizazz to the season? Maybe it's the discovery of new traditions and events? The feeling reminds of those classic Christmas songs by Bing Crosby, Perry Como, Dean Martin, Nat King Cole; there's a fuzzy warmth about them.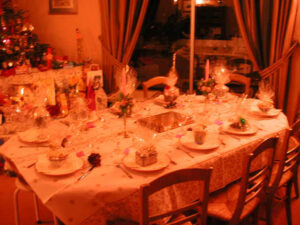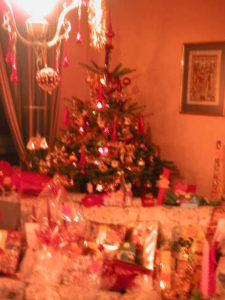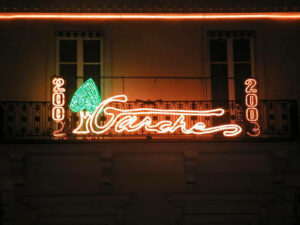 I spent my first Christmas in France in the Alps with my host family and it was quite the magical experience! We had a huge to-do on Christmas eve, it was a feast! I remember there was a warmth about the whole place from the fireplace to the lights to the energy. I felt like I was in a fairy tale. I do wish I had more photos, but back then I didn't realise the importance of them. I discovered cassoulet, a hearty dish with beans and sausages and duck that is a labor of love if you make it from scratch. 
Even though I was thousands of miles away from my family that year, it was wonderful being apart of someone else's traditions. I had swapped one large family and their customs for another. I struggled being away from my family on the holiday that is so centered around family. But I had been invited and accepted into a new family. The feeling was still the same; to be surrounded by loved ones and enjoy that time together. To slow down and take pleasure in the little moments and the little things. 
This year is no different, except I'm married, living in a pandemic and 18 years older. Things are slightly easier than in 2002 and family may be physically apart, but technology has allowed us to be together virtually. Even with the current state of the world, there is still an electricity in the are that comes with the holidays. There are Christmas lights strung up along the streets, Christmas music that is played over speakers within stores as well as in the streets. Stores are opening on days they are normally closed and every one has a different pep in their step. 
Usually by the time Halloween has started to pack up its bags and dust away the cobwebs, the turkeys have start to peek their heads out of the closet. Thanksgiving preparations and plans begin to be put into place. There's a sort of this unspoken rule in the States that Christmas music is not played until the day after Thanksgiving. It hit me that this year. I was out grocery shopping at the G20 (my local grocery store) a few days after Halloween and I saw an Advent calendar on an end-cap. I was not slightly bothered by it, in fact, I was slightly excited knowing that it is absolutely acceptable to start decking the halls in early November. This year seemed like it needed it more than before. 
I don't think my husband knew what he got himself into when he said "yes". Christmas is one of my favorite holidays and I'm all about traditions and making memories! We bought our little sapin de noël (Christmas tree) at our local fleurieste (flower shop). We spent a Sunday afternoon perusing the Marais for Christmas decorations. We made our own Christmas garland and I made a wreath for our apartment door. We're going to eventually make cinnamon ornaments for our tiny little sapin.
Christmas will be different this year, but I'm so looking forward to it. Creating new traditions while melding familial traditions that we both cherish. Christmas eve will be spent in our apartment, my MIL will come over for dinner. We'll have langoustines and sweet potatoes, foie gras, and champagne. It'll be the 3 of us, small and quiet, something that is the opposite of my family gatherings. Even though we won't be able to celebrate like we had originally planned, the spirit still remains the same. At the end of the day, it's about family and being with loved ones. Whether it's here in France or in the States, at the end of the day, we are gathered around the table with the ones we love (and a feast fit for a king), creating new memories and sharing stories. It just happens to be in a different language.