Christmas Traditions in France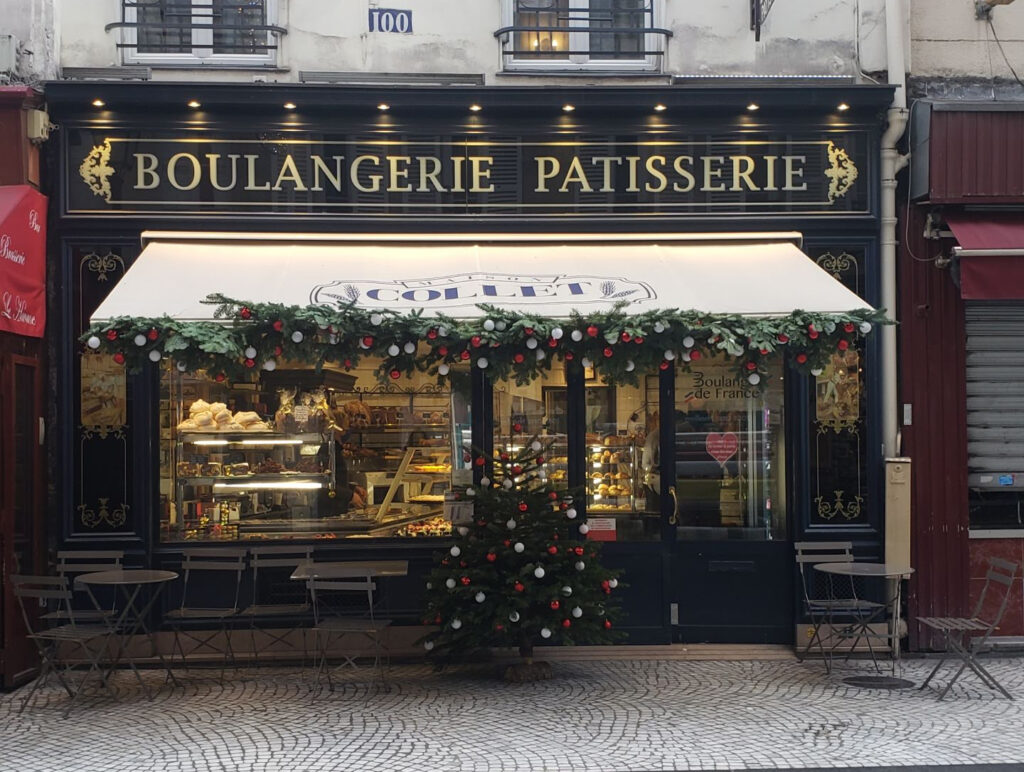 The Christmas season is one of my favorite holidays and the entire season is just buzzing with anticipation. One big difference between my Christmas here in Paris and Christmases past in Ohio is that Christmas in France is celebrated on the evening of the 24th where as in Ohio, it is celebrated on the 25th. Either way, presents are exchanged, a feast is prepared, and the sense of family and rebirth is felt all around. 
The holiday season here in Paris starts when one sees the street lights being installed through out the city, usually towards the middle/end of November. Store fronts will slowly start to decorate their windows for the holiday. And as November turns into December, the evenings chill off and the anticipation builds. Everything culminates on the eve of December 24th.
These are a good indication that Christmas is right around the corner. These started popping up at my local supermarket around the beginning of November. There's always a decent selection and depending on what supermarket you go to depends on what they've got to offer. Some specialty stores (Sephora, Bonne Maman, L'Occitane, Alain Ducasse, just to name a few) have their own every year. You can choose to be simple or sophistiacted.  
Christmas trees at your local florist are a sure sign that things are looking merry and bright. Here in Paris, Christmas trees are sold already cut and they come with their own stand, a block of wood, and a bag to dispose of your tree when the season is over. Now, if you've not thought about it, like our first 2 Christmases here, we did not have a tree stand for our tree and it dried up in about 2 weeks and the needles started dropping. Last year, I bought a tree stand to solve that problem. Unfortunately it did not arrive in time for last Christmas, but this year we will be inaugurating it for the first time. Will update after the season on its performance. 
In almost every French home, you will find a crêche (nativity) scene somewhere. They are quintessential to the French household during the holiday season. In France, particularly in the south, you will find nativity scenes made with santons, literally little saints, that are clay figurines that are painted. They were made popular first in Marseilles, then all over the south. Some go so far as to create elaborate scenes and scenarios. But the most simple is the crêche. I'm excited to start my own nativity with santons this year.
Families gather on Christmas eve to dine together and celebrate Christmas, this is known as la Réveillon, because, traditionally, the dinner and celebrations lasted into the wee hours of the night. The dinner table is set for an elegant and special evening; it is richly decorated with winter florals and candles. At Château Latrille, we have a dîner en famille (family dinner) on the 24th where we start with champagne and foie gras, the main course is usually seafood and sweet potatoes and we finish with a bûche de Noël  (Christmas cake). We end the evening exchanging gifts and enjoying each others' company. Some families are now celebrating on the 25th instead of the evening of the 24th due to the ease of various schedules. 
I did not experience my first Christmas market until the year I spent abroad. My first market was the one at La Défense and it will always be near and dear to my heart. These start popping up in the beginning of December and usually go to the end of the month or into the new year. Here you'll find local and regional artists and creators selling their creations. You'll also have food vendors selling things like hot bretzles, mulled wine, nougat, and much, much more.
This is the perfect evening outing because they're also usually decorate with Christmas lights and even an appearance or two from Santa Clause. I've got my list of markets here in Paris all in one handy little guide. I've even put together a Google map and calendar with the dates and times for you. 
Celebrated on January 6th, this day signifies the coming of the 3 kings, it also signifies the end of the Christmas season. On this day, it is tradition to serve a pastry known as une galette des Rois (a king's cake). A flaky pastry filled with an almond filling (frangipane). Inside there is a small bean or charm and whomever gets the piece with the bean is crowned the king/queen for the day. If you are in the south of France for this holiday, you will most likely be eating a brioche des rois , a round brioche loaf with candied fruits.