Annual Christmas Markets to be sure to visit in Paris 2022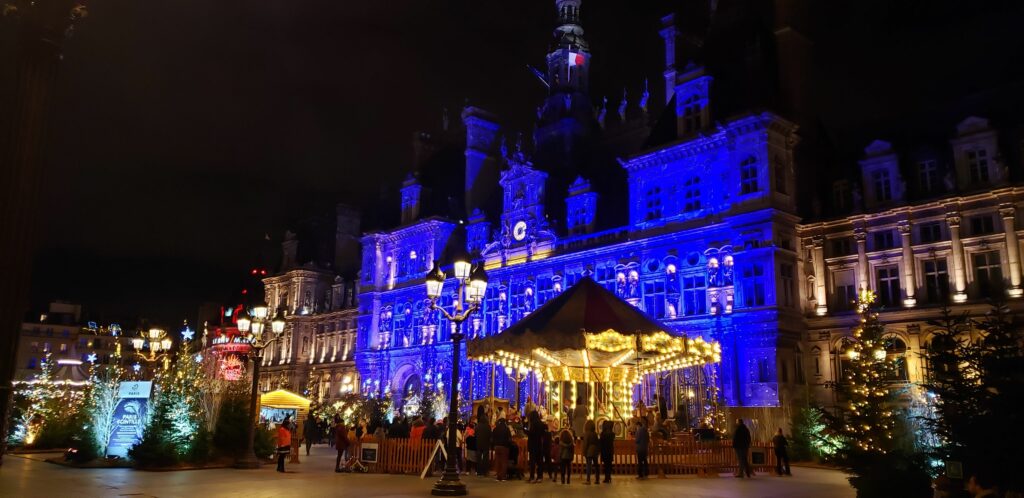 Usually around the middle of November, the white stalls start popping up around the city and that can only mean one thing, the Christmas markets are coming. I missed out on some of my favorites last year so I'm very excited about going to all of these this year! I've created a calendar as well as a map with the Annual Christmas markets to be sure to visit in Paris and all the necessary details at the end of this post. You can add it to your calendar so you'll know when the markets are happening. 
Here's where I will be going to this year : 
La Magie de Noël aux Tuileries
There's also une fête foraine (a fun-fair) is also a part of this winter extravaganza. It is put on by the same company that is there during the summer, so you know it will be good. Among the rides and attractions, there will also be the annual market side with producers from all over France offering gift ideas and their wares. 
Date: 19 November 2022 to 8 January 2023
Location: Jardin des Tuileries, Paris 1ere
Metro: Tuileries, Line 1. 
Marché de Noël des Abbesses-Montmartre
The annual Montmartre Village Christmas market is back again this year. A small, but mighty market, there's an intimate feeling in the quaint and picturesque square at the base on the basilica. 
Date: 10 – 31 December 2022
Location: Place des Abbesses, Paris 18e
Metro: Abbesses, Line 12. 
Marché de Noël de Paris Notre-Dame
This market has around 30 exposants that bring something a little different compared most other markets as the artisans that participate are local and regional creations. You will certainly be able to find something for everyone here. 
Date: 9 – 26 December 2022. 
Location: Quai Montebello, Square René Viviani, Paris 5eme
Metro: Saint-Michel Notre Dame, Line 4, RER B and C. 
Marché de Noël de Saint-Germain-des-Prés
Every year, the committee for Saint-Germain-des-Prés puts together a Christmas market that runs along the Saint-Germain-des-Prés church on Boulevard Saint-Germain. Here, your stomach will be eager to explore all the delights that will be offered such as the ever-popular mulled wine.  There's even word the Santa will be available for photos from December 23 to 25 (2 to 7 PM). 
Date: November 26, 2022 to January 1, 2023 from 11 AM to 8 PM. 
Location: Quartier Saint-Germain-des-Prés, Paris 6e
Metro: Saint-Germain-des-Prés, Line 4 and Mabillon, Line 6. 
Village de Noël sur le Parvis de La Défense
One of the largest (if not the largest) in Paris, this market boasts over 150 stalls of wares and food from all over. This market sprawls in front of the Grande Arche along the Parvis de La Défense.  There are activities for children and adults alike, you'll be able to meet Santa as he makes a stop at the market. With the several dining halls to eat dinner (or lunch), this market is one to certainly move to the top of your list. 
Date: November 25, 2021 to December 29, 2021. 
Location:Parvis de la Défense, 92
Metro: La Défense, Line 1, RER 1, Train L and U, Tram T2.
Marché de Noël de l'Hôtel-de-Ville
A smaller Christmas market pops up in front of the Hôtel de Ville this year with a carrousel and nightly illuminations that will be projected onto the facade of City Hall. There will be food stands as well as Christmas displays throughout the square. A perfect start to an evening of Christmas shopping since it is right next to the BHV. 
Date: 2 – 31 December 2022. 
Location: Parvis de l'Hôtel de Ville de Paris, Paris 4e
Metro: Hôtel de Ville, Line 1, Line 11. 
Marché de Noël de la Tour Eiffel
The Christmas village that set up at the foot of the Eiffel Tower boasts an array of stalls that feature regional products and foods. What more of an iconic setting for a festive night out that in the presence of the great Iron Lady herself? 
Date: 16 December 2022 to 2 January 2023. 
Location: Quai Branly, Paris 7e
Metro: Alma-Marceau, Line 9. Pont de l'Alma, RER C. Éole Militaire, Line 8.
Marché d'Alsace at Paris Gare de l'Est
This highly-anticipated (and oldest Alsatian market outside the region) market brings together all the Alsatian specialties right together in Paris. If you are looking for an authentic experience and not leave the comfort of your city, look no further. Make sure you save room to taste and enjoy all these regional specialties. 
Date: 30 November 2022 to 16 December 2022, every day from 9 AM to 7:30 PM, Sundays from 10 AM to 7 PM. 
Location: Gare de l'Est, Place de 11 novembre 1918, 75010
Metro: Gare de l'Est, lines 4, 5 and 7. 
Christmas Markets at la REcyclerie
La REcyclerie brings together over 50 merchants, artists, producers, and designers that span 43markets during the weeks of December 3-4, December 10-11, and December 17-18, 2022. This eco-responsible market brings together participants and merchants that will focus on enjoying the holidays with keep the planet in mind. 
Date: 3 December to 18 December 2022, on the weekends at 11 AM. 
Location: La REcyclerie, 83 boulevard Ornano, 75018
Metro: Porte de Clignancourt, line 4.
Not in Paris?
If you're looking outside of Paris and even France, this website has a current listing  listing of all the marchés for France, Switzerland and Belgium! You can search for markets either by French department or country (France, Switzerland, Belgium, Luxembourg and Monaco).