Understanding the color system of Paris's trash bins
How to properly sort the trash in France
Please do not start groaning about this topic. I know, why on Earth would I write about trash? Because whether you're visiting or you've moved to Paris, it's one area where you need to get a lay of the land. And I also get annoyed at people who don't pay attention and throw things away in the wrong bin. A small pet peeve of mine (and it's both locals and foreigners). But that's something that I need to work on myself. So consider this a little PSA on Paris and throwing away trash properly. 
In Paris, the trash system is made up of color-coded bin service. This system helps the habitants better dispose of their unwanted items. In recent years, the city of Paris has started adding a bin for food waste. Some areas have central public bins but most building have their own separate bins that are taken out almost on a daily basis. 
Les bacs jaune (the yellow bins) are your basic recycling bin. These will include anything from paper, cardboard, plastic bottles, metal cans, to anything else that is packaged in paper, metal or plastic and labeled recycling accordingly. 
Unsure of what can go into the recycling bin? Citeo has fantastic guide where you type in your zip code, the item that is in question and it will tell you what to do with it! 

Les bacs marron (the brown bins) are for your food scraps that are compostable and in a compostable bag. If you don't know about compost, it's very simple. You will be informed what type of food items you can put in said bin because there are certain systems that can take certain food items. 
Here's what the Paris website has to say about the current arrondissements that are collecting items for compost. Note this is only currently available in the 2nd, 12th, and 19th arrondissements.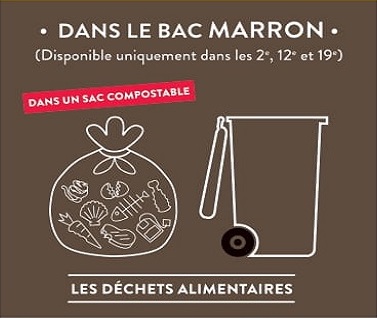 Les bacs blanc (the white bins) are for all those wine and champagne bottles we consume on a daily basis. Just kidding… or really? They're also for those food jars and any other glass item that you do not want. I reuse most of mine, but when I do not need any more, they go right here.
If your building does not have a white bin, then you'll need to look for a large, round grey bin on a street corner somewhere. There are around 1000 total in the city, so it should be pretty easy to find.  They'll usually be surrounded by empty wine bottles, particularly if they're located in proximity to a cafe/restaurant/bar. When we lived near Châtelet, our building did not have a white bin so we had to haul our glass collection weekly to the community bin. 
Les bacs vert/gris (the green/grey bins) are for anything else that does not fit in the other bins, all the leftover bits and bobs. If you're ever unsure of where to throw your trash away your best bet is one of these bins. Everything must be thrown away in a bag that is closed (aka a trash bag you can find at literally any super market or grocery store in Paris).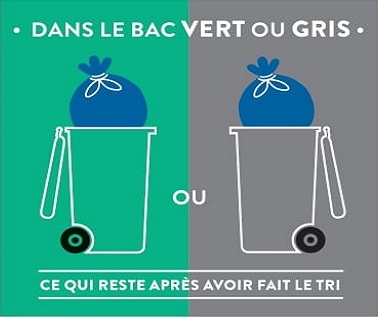 If you're looking for more information, the city has a good collection of information available on their website here. This page is extensive and goes into detail about other items as well such as clothes, medical items, medicines, electronics (of all sizes), batteries, lightbulbs, and much, much more. 
If you're located near the center of Paris, the Ressourcerie Paris Centre L'Alternative is one of my favorite spots to drop off all my donations. Even now, I still take my items (when I can) here to be recycled/upcycled or sold. They are a part of the Emmaüs family and take everything for donation except food items, make-up products and mattresses. Everything else is fair game! If it's broken and can be repaired, they partner with local artisans to repair to resell.