Picking up my carte de séjour : remise de titre de séjour
Remise de Titre de Séjour
It's been two months to the day and I have not recieved an SMS from the préfecture about taking another appointment to pick up my titre de séjour. So, I'm following the instructions that the lady at the second window gave me. 
Just from what I can tell, it seems like the Préfecture has updated their website, so some of the adresses may not be the same. It is more streamline and easier to navigate than when I went through the step by step process in February . 
You will need to click here to go directly to the website to send your email request to see where things are at with your dossier. 
Here is the text I used in the message section of the message form :
Bonjour,
Je me permets de vous contacter car je n'ai pas reçu le SMS m'informant de la disponibilité de mon titre de séjour . Pourriez-vous, s'il vous plaît, m'indiquer où en est mon dossier ? Je vous remercie par avance.
Bien cordialement,
Sarah
(included my cell phone here just in case) 
I also selected the following service from the drop-down menu : 
Salle de remise des titres de séjour / Convocation SMS
When I clicked submit, I got an automatic confirmation email that my message had been received and that I would be contacted at their earliest convenience . So here I am, waiting for a response as to what's going on with my card . 
5 days after I sent my message, I received a text message saying that my titre de séjour is finally available for pick-up. Cue up the ticker tape cannons !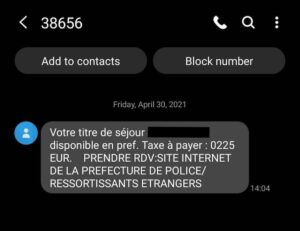 When you get this text message, you are now allowed to go online and request an appointment to pick up your card. You'll return to the Préfecture's website and follow the same steps you did when you went to send your message . You can also click here . When you click through the first two steps and get to the third step, you'll choose Remise du titre de séjour. 
Here, you will be taken to the screen that will tell you, in French, the step by step process on what you need to do to make your appointment . It is also important to know that in step 3, it tells you the documents that you need to bring with you to your appointment . You'll need to lick on the link that says "Prendre rendez-vous en ligne en cliquant ici" . This will take you to the page that starts the request process. Step 3 here also outlines the documents you will need to bring with you, all originals : 
Valid passport.
Your récépissé, titre de séjour, or other temporary residency permit. 
The fiscal stamp in the correct amount as found in your text message or email . 
At the bottom of the page, there is a box you need to check saying that you accept the conditions and you understand what's expected of you . When you are ready to continue with the request, click the Effectuer une demande de rendez-vous. You will be taken to the following screen .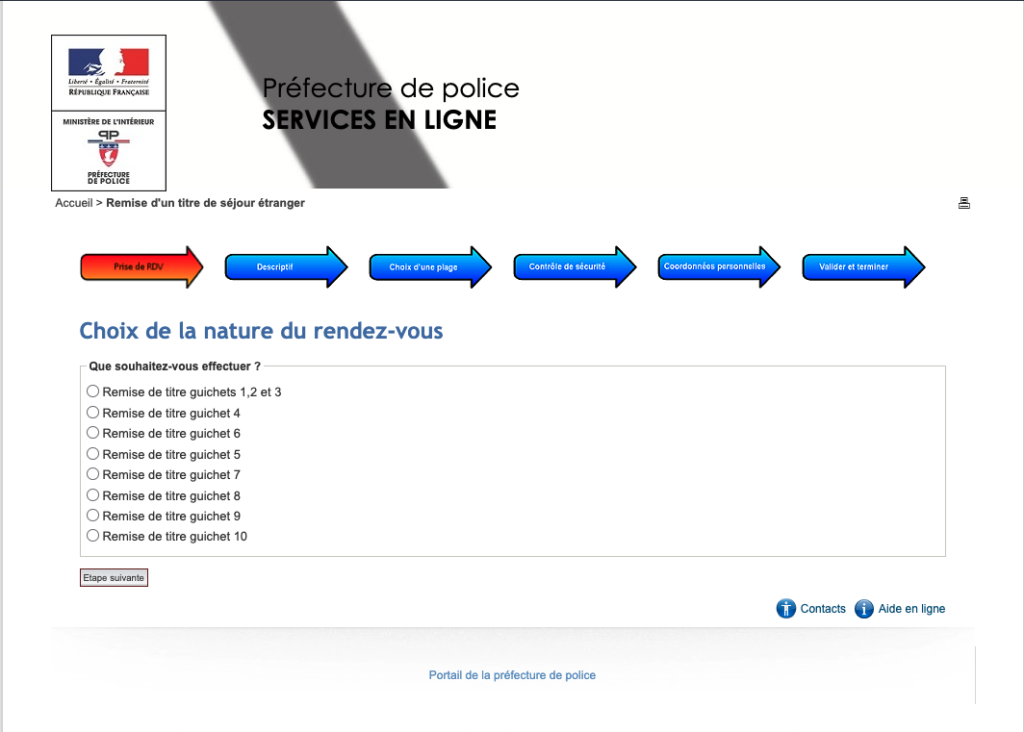 Do not freak out ! These options really mean nothing when it comes to choosing the appointment. These are the windows that are have agents working at them. When you select one and you get a response that says there is nothing available at this window, go back and try another window. It took me three tries till I found a window that had slots still available. If you have tried all the window options and there is nothing available, do not feel defeated, try again later. 
After successfully finding a time that is available to request your card, you will be taken through to enter and verify your information . At the end, you will receive a convocation (one will also be sent to your email) that you will need to print out and bring with you to your appointment. You now should buy your fiscal stamp for your card. You can do that here . 
When choosing your stamp, you'll want to select Titre pour étrangers. You'll be directed to a website to choose the monetary amount for your stamp. There is a drop down menu so choose the one that best fits your situation . See gallery below for step by step images on how to navigate buying your stamp. 
When you've bought your stamp, you can download it and print it out. You should now be good to go for your appointment ! Now, it's just waiting till the day of your appointment . More to come on that soon ! 
The appointment I was able to secure was for Friday, May 7, 2021 at 9:50 AM at the Préfecture de Police on Île de la Cité. 
My convocation stated that I should not show up more than 30 minutes before my appointment time. I was a little hesitant this time, with everything that happened at my visa renewal appointment, I didn't want to risk much. I walked to the appointment (because I live right around the corner) and made sure I had a little extra wiggle room. 
It was also not listed on my convocation what documents I needed to bring with me. There was no information given in the email I got from the Préfecture confirming my appointment. You will find the information here for the documents you need to bring. 
Arriving to the appointment 
Since I live within walking distance of the Préfecture on Île-de-la-Cité, I decided to take advantage of the beautiful morning and walk to the appointment. 
Upon arrival to the Préfecture, there was a group of people waiting out front. There was a sort of gate made with a metal railing and there were guards/employees of the Préfecture allowing people through at certain times. I immediately walked up and asked if they were letting people in yet for the 9:50 AM appointment slots. The guard asked me to wait patiently for a few minutes and they would be calling out the time slots. I waited for not even 10 minutes when she called 9:50 AM. 
I was allowed to pass through the first guard, after presenting my convocation, to the second guard at the main entrance. The second guard was letting people, 5 at a time, through the SAS doors into the lobby and through security. The second guard sorted us into picking up our cards and other and asked to to form 2 separate lines. He let the others go in, there were at least 20 before he let my group go into the building. 
Passing security and finding Salle 1
Once through the door, we were allowed to enter the lobby of the building. We had to pass our belongings through a metal detector and x-ray machine and then were scanned. Once through we were told to follow signs for our appropriate room on our convocation. 
Luckily for me, right past the information desk, was a sign for Salle 1 and arrows on the floor. The hallway continued around the corner and there was a big banner that had indications for the 6 different halls. There was another lady there directing people where to go if they had questions. I got in line and waited. 
Right before entering the waiting room for Hall 1, a lady was asking to see paperwork. She asked for the following paperwork : 
Passport.
Récépissé.
Fiscal stamp. 
Convocation.
This wasn't my first rodeo, so I had everything all ready in my lovely blue OFII folder for easy access. She did ask if I had my carte de séjour and I said that this is my first one and that when I validated my visa, that acted as my titre de séjour. 
Checking in and waiting
When I got to the door to the room, I was met with a second lady asking to see the same paperwork and she took my récépissé and handed it to a lady at the counter, who then in turn, handed her a ticket with a number on it. I'm going to assume the lady behind the counter was checking her computer for any and all information when she receives a récépissé.
There were some people who were waiting in line after me that did not receive their text message and came anyways. The counter lady was able to give them a little more information, if applicable, but they were turned away and told to wait till they received their text message. 
Once I got my ticket with my number on it, I was asked to wait in the waiting room. The second lady checking paperwork was also calling off several numbers at a time to go back into the hall itself to wait in line till individual numbers are called to present themselves at a specific window. I maybe sat here for about 5 minutes till she called my number. There's also screens all over that display the current number that is being seen. 
Receiving my card 
The hall itself was smaller than I imagined. There were about 12 different windows that were all numbered and each had its own agent working behind a computer. They were set up almost identical to the windows wt the Préfecture when I went to turn in my application paperwork for my renewal. There was a fingerprint machine on the left side of the counter. I saw 2 screens that displayed the number that were currently in service. Every time a new number flashed on the screen there was a beep to indicate the change. 
When I made my appointment, I had chosen window 5. And when my number came up, I was assigned window number 5. The agent was very nice. I handed her all my paperwork that I had in my folder and looked it all over. She asked me to wait a minute while she went to look for something (assuming my card).  She came back about 3 or 4 minutes later, after talking to one of her co-workers about something with a paper that had my card attached to it. She took my card off and handed me the paper. She asked me to verify the information on the paper to make sure it was all correct then I had to sign on the bottom righthand corner of the paper. She tore off the bottom quarter of the paper, asked me to put my right index finger on the scanner and then handed me my card and the paper, thanked me and wished me a good day. 
The appointment in total took about 35 minutes. The actual time in front of an agent for picking up my card took all but 5 minutes. It was quick, painless, and effortless. I was not asked for extra documentation, but I still brought my folder just in case. I was pleasantly surprised at how smooth this all went. I had seen accounts over the last few months of long lines and disorganized processes. So I came prepared for anything.
That's something about French administration. You never know what you are going to get when you go to your appointment. You may be met with lines of 50 + people or there may be no one in line. Always come prepared and definitely not on a time frame. You are at the mercy of the administration. It is best to plan for either a half day or several hours if you are unsure of how the process will go. It is best to be over prepared than under prepared. 
Hopefully my account has helped you in any way shape or form ! Let me know below if you've recently went through a similar process. I'd love to hear your stories!