Homemade Everything Seasoning Blend
Homemade Everything Seasoning Recipe
Moving to France has its ups and downs. As a cook and baker, there are certain ingredients that I have gotten accustomed to in order have the outcome I desire in my baked goods. There are certain flavor profiles that I like to use as a foundation when cooking. There are also certain flavor profiles that provide a sense of comfort when cooking/baking. Everything Seasoning is one of those comforts. 
There are certain "American things" that when you move to a new country will be hard to come by. Some staples in my American cooking pantry: Mrs. Dash Seasoning, Créole seasoning, Old Bay seasoning, buttermilk, Butter flavored Crisco, maple syrup, Molasses, Grits (not the microwavable kind), cornmeal, non-fat dry milk powder, Karo syrup, just to name a handful. 
These ingredients, unless shopping at the local American market, can be hard to come by in the local Monoprix. But, if you know where to look and what you're looking for, you can find an almost equal equivalent. 
When in doubt, Google it, is usually my go-to method. Having tested and written recipes in my former life, I tend to take a handful of recipes and create my own according to my memories of how things taste. The following recipe of Everything Seasoning is that such thing.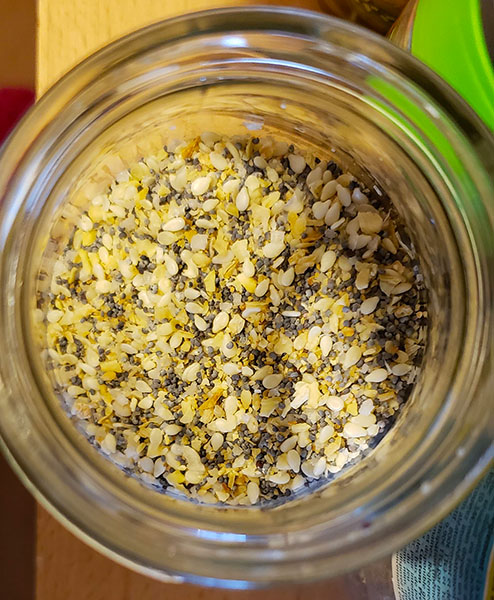 Everything Seasoning
Yield : about 1/3 cup seasoning
2 tablespoons Poppy seeds
2 tablespoons White Sesame seeds
1 1/2 tablespoons dehydrated chopped onion
1 tablespoon dehydrated minced garlic
1 tablespoon flaked sea salt. 
Mix all ingredients together and store in your favorite air-tight container. Will keep for at least 1 year. Please check dates on the individual containers for specifics. Take the the earliest date for the expiration date . 
Use seasoning on any sort of bread product you're thinking of baking: loaf, bun, bagel, muffin. It honestly goes with anything and everything.