One Year Anniversary // My Year in Review
Happy One Year Anniversary !
It is one year already that I have officially plucked myself from one country to another. That I finally did it. I have moved to Paris and have not looked back. 
I imagined my first year as a parisinne that I would be doing my weekly shopping at the local marché, nightly apéros at my local bar or along the quais de Seine with friends. I'd spend afternoons perusing museums or wandering aimlessly around Paris in my favorite quartiers. Checking out the most recent expo at my favorite galleries or taking extended weekend trips to the ocean, La Perche, or the mountains. I came armed with a list of all the things I finally wanted to do and especially with my husband. 
I didn't plan on a pandemic. 
I didn't plan on a country-wide lockdown. 
I didn't plan on life practically grinding to a stop and the city unexpectedly shuttering it's doors. 
But I didn't let this stop me or us!  
Looking Back on the Last Year
Despite a global pandemic basically derailing the entire world, I would say my first year living in France (again) has been a success. I've managed to navigate French administration with minimal hiccups possible.
Opening a bank account was a breeze and so thankful I did that before confinement hit.
I applied for public healthcare and got my coveted green carte vitale in a matter of weeks.
I signed my CIR at my first OFII appointment of many to follow. 
I attended four full-day civics classes to learn about France; her history and the resources available to me as someone who is integrating into society and creating a life here. 
I applied for a numéro fiscal  for taxes purposes once I found my first job. 
I sent in my application to exchange my Ohio's driver's license for a French permis de conduire. Still waiting on news for this one… ANTS is having some major setbacks. 
Figured out how to submit my request to renew my titre de séjour. (Thank you Facebook groups.) 
Successfully kept my cool while in my appointment for renewing my titre de séjour. Thankful for gut instincts when it comes to paperwork and brought more than required ! 
Regardless of what was going on around us, Thomas and I decided to escape when we could to get away from the hum-drum of everyday life and disconnect. 
The moment we could, we and a few close friends booked it to the country house in le Perche . It's about a 2 hour car ride, depending which way you go, from Paris. And it is in the heart of farm country. This farm girl gets her fill every time! And there's a donkey farm next door! We always eat too much cheese, drink too much cidre, and do a lot of nothing and it is simply perfect. 
In July, we hopped the train and rode it to the end of the line to Provins. We spent the day in the medieval city exploring the winding side streets. Thomas treated me to the falconry show they have in the afternoon. It was a very hot day, but completely worth it ! 
We took a week in August and headed south towards Dijon. We stayed in an AirBnB that was in a converted flour mill in a small town called Is-sur-Tille. It was the perfect get-away for a few days. I had just finished my trail period at my new job and was thick in vacation season and it was stressful ! Most of the time we spent on our little balcony reading and watching the ducks in the river next to the Airbnb. 
In February, while between jobs, we took the weekend and went to Trouville. I had never been to this sleepy sea-side French resort and Thomas talked of it often. I was thrilled when I had a few days in transition from the old job to the new job and Thomas proposed a weekend seaside. He booked a super cool Airbnb and we ate our fill in fresh seafood. Mussels and oysters almost every meal ! It was freezing cold, but completely worth it ! I can never say no to the ocean.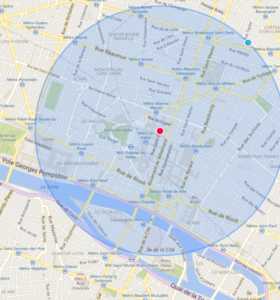 This year I spent more time in my little bubble of the 1st than I expected, imagined or planned. For the better part of 3 months, I could not go more than 1 km from my home. It was weird being limited to where I was allowed to go. But it also allowed me to discover my neighborhood in ways I didn't think I would have done otherwise. 
We walked to the Louvre, the Palais Royal, small side streets around the Centre Pompidou and the quais de Seine. These outings opened my heart to fall in love more and more with living in the center. When we were finally able to break free from our 1 km, I kept wanting to explore close to home. 
Landing a job in food service
When the pandemic hit and the restaurants, bars, and cafés took one to the gut, I got worried. My life is in food service, it is the only domaine I know. I have spent the better part of 19 years working in food service and I could not imagine myself in any other sort of sector. After a few weeks of déconfinement, I started hitting the pavement for a job. 
I landed my first job in France as an operations manager for a start-up dark kitchen that operated out of Paris, but also had locations in London, Madrid, and Dubai. I figured I hit the jackpot. The whole process from application to signing the contract took about 6 weeks. I finally started in July and I was stoked. 
As the weeks went by, I started to realise this was not the cup of tea that I thought it would be. If there's one thing I learned while in the first weeks of the global pandemic was that time is short, it is not guaranteed and that I need to put myself first in everything. 
Therefore, I started looking for another job casually. It wasn't till one day that I happened to be browsing Instagram stories that I saw my dream bakery post a position of management. I told myself "screw it" and sent my CV immediately. Needless to say, I got the job and I'm finishing my 3rd week. Despite restrictions on life right now, business is booming and I feel like I've hit the jackpot. 
Nothing like moving to be with my husband, who for the first 3 years of our relationship spent it à la distance, spending 24/7 together for 3 months. We joked with friends and family that this time allowed us to make up for the years that we spent apart. We also joked that if we could survive this pandemic in our first year, we'd be able to survive anything. 
This time allowed us to focus and spend more time with each other. It allowed us to continue to discover and have conversations with and about each other. It allowed us to dream together in a way that we would not have been able to without the pandemic. Despite the world seeming like it was falling apart and there is uncertainty around every corner, we were able to create a space that was grounded and we could only build up. 
We spent our one year anniversary in a boutique hotel in Montmartre, we bought all our favorite foods for dinner and had a spread fit for a king and queen ! We drank fabulous wine and champagne and of course, we took photos ! This was certainly an anniversary that was unlike any other. 
Regardless this year being unlike anything either of us have lived and regardless it not being what I had imagined, it still exceeded itself above and beyond what I could have imagined. 
Even with a pandemic and the world practically shutting down, life still rolled on for me. We did not return to the States like many Americans that I know did for the holidays, we've decided to wait till we can be vaccinated and are able to travel without as many restrictions. It is too much of a risk right now. I miss my family dearly, but I'm so thankful for the advances in technology today to when I was here in 2002.
It can only go up from here is what they say and I am firmly behind this ! Thankfully I did not loose anyone close to me to Covid and none of my close family and friends fell ill to the virus. I have been blessed with health and a strong immune system and have decided to keep the theme going with being better to my physical self.